Soy Free
Gluten Free
Preservative Free
Non-GMO
---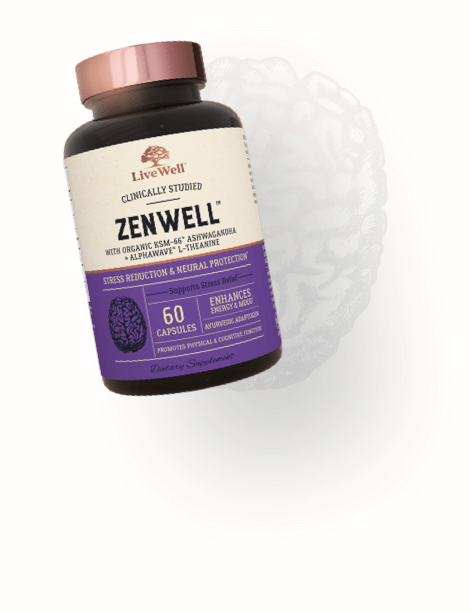 Offering: ZenWell™
Intention: Stress Reduction & Neural Protection
Mastering your Zenergy is easier said than done these days. That's where ZenWell™ comes in. We're here to support you on your wellness path, young Ashwaghandi. It's as simple as one cap-soul, twice daily to arrive at destination: ZEN.
ZenWell™ combines clinically proven KSM-66®, the highest concentration, full-spectrum ashwagandha root extract on the market with Alphawave®, a proprietary and pure L-Theanine amino acid. These two potent ingredients unite to reduce stress, provide adrenal support, increase sleep quality, improve brain health, and boost energy.
Add it to your daily ritual and you'll arrive back to the now with pure clarity. After all, the power of the mind (and mental acuity) is everything.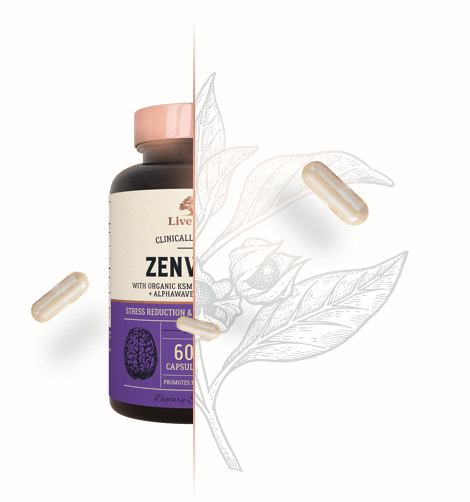 The Source
Ashwagandha is the flagship herb of Ayurveda, the traditional system of medicine from India. This herb has been known for centuries to help promote a healthy response to everyday stress, over-work, and fatigue, as well as support normal levels of mental clarity, concentration, and alertness.
KSM-66® is the highest-concentration extract on the world market today that is drawn using only the roots of the ashwagandha plant, a meticulous process that took 14 years of research and development to create and refine. Certified organic by the USDA, KSM-66® has been evaluated in 13 "Gold Standard" randomized, double-blind, placebo-controlled, human clinical trials, and scientifically-tested, high-potency, full-spectrum extract.
The addition of AlphaWave®, a patented, 100% pure form of L-theanine clinically shown to help stimulate alpha waves in the brain and promote an alert state of relaxation, without drowsiness. Additional human clinical research suggests that AlphaWave® may play a role in improving the quality of sleep, diminishing symptoms of hormonal mood swings, improving learning performance, heightening mental acuity, promoting concentration, reducing negative side effects of caffeine, and supporting the immune system.*
Key Ingredients
AshwagandhaKSM-66®
You can rest assured knowing there are never any harmful fillers or additives, just whole, natural ingredients.
Supplement Facts
Serving Size: 2 Capsules | Servings Per Container: 30
| | Amount Per Serving | %DV |
| --- | --- | --- |
| KSM-66® Ashwagandha | 600mg | * |
| Alphawave® L-Theanine | 200 mg | * |
| Organic Black Pepper Extract 4:1 | 20mg | ** |
† Daily Value Not Established
Other Ingredients:
Rice Flour, Vegetable Cellulose (Veggie Capsule)
Allergen Warning:
Lactose

*These statements have not been evaluated by the Food and Drug Administration. This product is not intended to diagnose, treat, cure, or prevent any disease.
AlphaWave® is a registered trademark of Ethical Naturals, Inc. and its affiliates

KSM-66® Ashwagandha is a registered trademark of Ixoreal Biomed and its affiliates
How to Take ZenWell
1 Capsule
Twice Daily
With Meal &
8oz Glass of Water
Manufactured in the USA

Our line of natural products, manufactured in the USA with domestic and imported ingredients, employs stringent quality control standards that exceed expectations set by cGMP (Current Good Manufacturing Practices).

3rd Party Tested

We double down on our commitment to truth in labeling, ingredient safety, and product potency with independent, 3rd party testing, giving you peace of mind that what's on the label is also what's inside the bottle.
---
ZenWell Reviews
In the interest of transparency, we never use incentives to influence these reviews.
Write a Review
Works well for me

Absolutely luv!!! I take in the morning and it gets me on my way! Energy and a clear mind. By far the best product out there. would recommend

Awesome -

My husband liked the product

I have been taking these pills for a week now and do really feel a difference in my energy levels. My mood has improved and feel more alert.

Feel a difference! I was having hard time staying focused with my toddler's activities. Just didnt have the energy!

If you're looking for a great product this is the ONE!

This by far is my favorite!

It helps me stay calm and keep my focus at work and when exercising. Great product!

They are the best. Thanks