Soy Free
Gluten Free
Dairy Free
Non-GMO
Preservative Free
---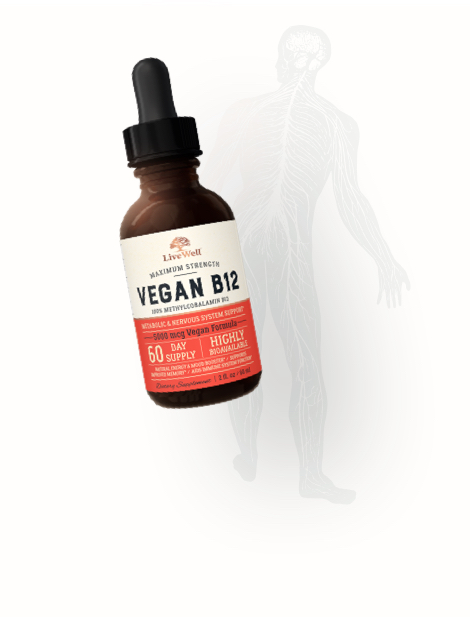 Offering: Vegan B12
Intention: Metabolic & Nervous System Support
Drip, drip, drop and you don't stop.. Vegan B12 offers a maximum strength, highly bioavailable 5000 mcg daily dose, designed to replenish your body, offering you clarity, energy, and focus. LiveWell's sublingual formula has a fresh citrus flavor, superior absorption and bioavailability, providing a potent nutrient clinically proven to promote energy metabolism and boost cellular reproduction, vital to the overall health of every major system in the body - supporting your well-B-ing.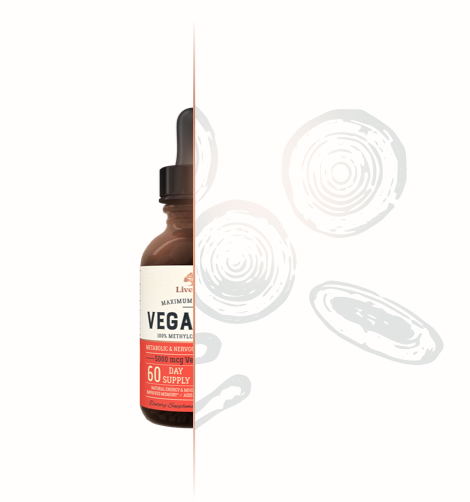 The Source
LiveWell's Vegan B12 utilizes the most bioavailable and natural coenzyme form of B12, methylcobalamin. Unlike its synthetic counterpart, cyanocobalamin, conversion in the liver is not needed for methylcobalamin to be biologically active.
Vitamin B12 promotes crucial cellular production by supporting the adrenal glands, red blood cell formation, and converting carbohydrates to glucose, the fuel your body uses for energy, improving concentration, mental clarity, and cognitive function.
Vitamin B12 may play a vital role in your bone health. Low blood levels of this vitamin have been associated with an increased risk of bone degeneration. Studies have also shown that this powerful vitamin may also help prevent issues with vision. Additional scientific research has shown that this water-soluble essential nutrient may play a role in maintaining healthy skin and hair.
Key Ingredients
Vitamin b12Methylcobalamin
You can rest assured knowing there are never any harmful fillers or additives, just whole, natural ingredients.
Supplement Facts
Serving Size: 1 ml | Servings Per Container: 60
Amount Per Serving
%DV

Vitamin B12

(as Methylcobalamin)

5000mcg
83333%
† Daily Value Not Established
Other Ingredients:
Water, Glycerin, and Organic Citrus Extract.
* These statements have not been evaluated by the Food and Drug Administration. This product is not intended to diagnose, treat, cure, or prevent any disease.
** Percent Daily Value based on a 2,000 calorie diet.
How to Take Vegan B12
1 ML drop
Once Daily
8oz glass of water
Manufactured in the USA

Our line of natural products, manufactured in the USA with domestic and imported ingredients, employs stringent quality control standards that exceed expectations set by cGMP (Current Good Manufacturing Practices).

3rd Party Tested

We double down on our commitment to truth in labeling, ingredient safety, and product potency with independent, 3rd party testing, giving you peace of mind that what's on the label is also what's inside the bottle.
---
Vegan B12 Reviews
In the interest of transparency, we never use incentives to influence these reviews.
Write a Review
I'm very happy with this product

Product was as advertised

Taste was better than I expected. Good stuff!

I like the fact that it's liquid

Works well.

Will let you know the effects

Product works exactly as described. My labs prove it.

I love the energy I have taking this B 12 every day it truly does make a huge difference in my day.

Excellent quality.

So far so good! I don't notice a difference in energy, but I've only used this a couple weeks. I will order it again.