Soy Free
Gluten Free
Dairy Free
Preservative Free
Non-GMO
---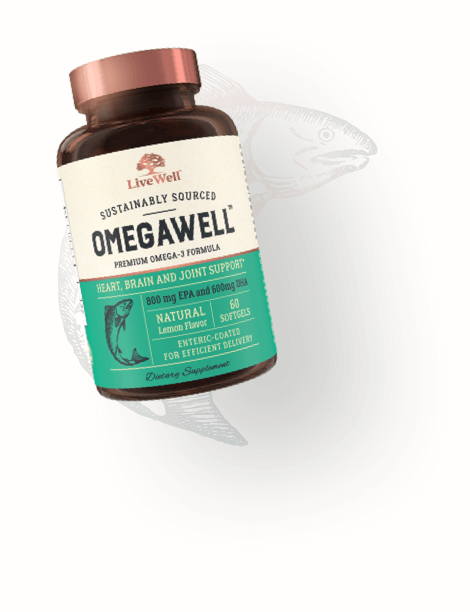 Offering: OmegaWell™
Intention: Heart, Brain, and Joint Health
Triple-strength OmegaWell™ provides optimal results with a 2000mg daily serving size of 800mg of EPA and 600mg of DHA. Formulated for maximum support of the brain, heart, joint, vascular and immune health. OmegaWell's enteric-coated softgel makes for easy, efficient delivery of sustainably-sourced Omega-3s directly to your vital systems - now that's an ohmm-mega life well-lived.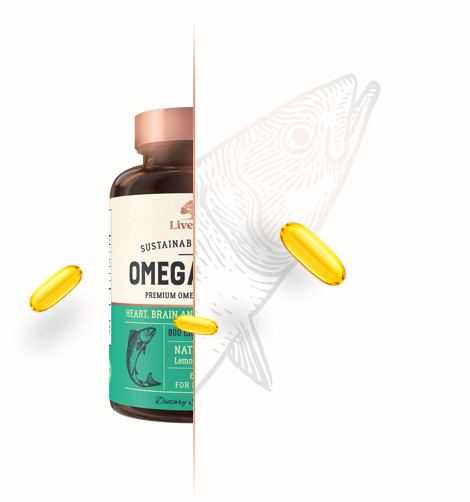 The Source
Fish oil contains two omega-3 fatty acids known as eicosapentaenoic acid (EPA) and docosahexaenoic acid (DHA). Studies show that these key omega-3s aid those suffering from issues stemming from the immune system.
Fish oil also reduces the risk of heart and brain abnormalities, while also helping improve mood, bring blood pressure back into a normal range, and relieve joint discomfort.
Key Ingredients
Fish OilOmega-3 Fatty Acids
You can rest assured knowing there are never any harmful fillers or additives, just whole, natural ingredients.
Supplement Facts
Serving Size: 2 Softgels | Servings Per Container: 30
| | Amount Per Serving | %DV |
| --- | --- | --- |
| Fish Oil | 2000mg | † |
| Calories | 20 | † |
| Total Fat | 2 g | 4% |
| Saturated Fat | 0 g | † |
| EPA | 800 mg | † |
| DHA | 600 mg | † |
† Daily Value Not Established
Other Ingredients:
Fish Oil, Gelatin, Vegetable Glycerin, Purified Water
Allergen Warning: Contains Fish
* These statements have not been evaluated by the Food and Drug Administration. This product is not intended to diagnose, treat, cure, or prevent any disease.
How to Take OmegaWell
1 softgel
Twice Daily
With Food
Made in America

Our entire line of natural products are proudly manufactured in the USA, employing stringent quality control standards that exceed expectations set by cGMP (Current Good Manufacturing Practices).

3rd Party Tested

We double down on our commitment to truth in labeling, ingredient safety, and product potency with independent, 3rd party testing, giving you peace of mind that what's on the label is also what's inside the bottle.
---
OmegaWell Reviews
In the interest of transparency, we never use incentives to influence these reviews.
Write a Review
Helps with my joint pain.

from Amazon

great product for the price

from Amazon

Thanks!!

from Amazon

Easy to swallow, no fish taste. My doctor says it will help to increase my good chlorestoral.

from Amazon

It cured my dry eye!

from Amazon

Coupled with the MagWell, I'm feeling so much better!

from Amazon

Not bad stuff.

from Amazon

This product is great and the company is awesome!

from Amazon

Recommend

from Amazon

Very easy to swallow.

from Amazon