Soy-Free
Gluten-Free
Dairy-Free
Preservative-Free
Non-GMO
---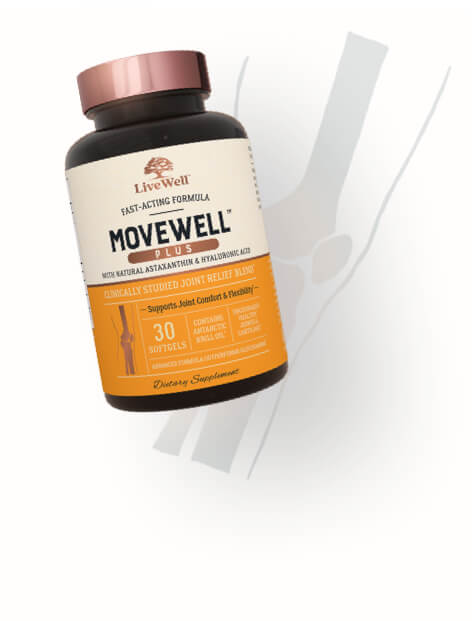 Offering: MoveWell™ Plus
Intention: Joint Health
MoveWell™ Plus contains premium ingredients formulated to help reduce joint discomfort. The ingredients in this powerful antioxidant blend help lessen oxidative damage and improve joint health. One softgel daily can assist with mobility, joint flexibility, and reduced body aches. Zanthin® Natural Astaxanthin and hyaluronic acid are potent, highly absorbable ingredients that work synergistically for better joint health.*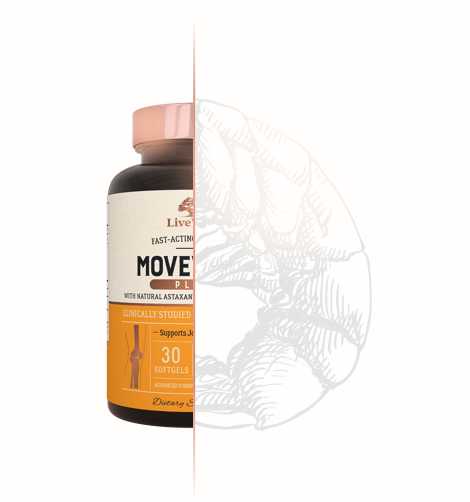 The Source
The MoveWell™ Plus Proprietary Blend contains a specially formulated synergy of ingredients from the best possible sources.
Antarctic Krill (Euphasia superba) is found in the cold, pure waters off the coasts of Antarctica. The sustainably sourced krill oil used in MoveWell™ Plus provides powerful omega-3 fatty acids—the same ones that have been shown to help reduce joint discomfort. Krill oil also contains DHA and EPA, which may assist in muscle recovery after exercise and the reduction of persistent oxidative damage in the body.
Hyaluronic Acid is naturally found in your joints and acts as a lubricant between bones, reducing the potential for uncomfortable grinding. This means better flexibility and ease of movement.
The final key ingredient, Zanthin® Natural Astaxanthin, is derived from a type of microalgae grown in a remote, pristine Chilean environment. Astaxanthin has been shown to combat the effects of oxidative damage caused by free radicals in the body, leading to less joint discomfort.
Key Ingredients
Antarctic Krill Oil
Omega-3 fatty acids
Hyaluronic AcidHelps reduce joint discomfort
Zanthin® Natural Astaxanthin
Helps reduce the effects of oxidative damage


You can rest assured knowing there are never any harmful fillers or additives, just whole, natural ingredients.
Supplement Facts
Serving Size: 1 Softgel | Servings Per Container: 30
Amount Per Serving
%DV

Total Fat

0.5 g
2%

MoveWell™ Plus Proprietary Blend

Antarctic Krill (Euphausia superba) Oil, Hyaluronic Acid (as Sodium Hyaluronate, fermentation-derived), Zanthin® Natural Astaxanthin (Haematococcus pluvialis algae extract)

353 mg
**
Other Ingredients:
Gelatin, Glycerin, Olive Oil, Sorbitol, Vanillin, Spice Extract
Allergen Warning: Contains shellfish.
* These statements have not been evaluated by the Food and Drug Administration. This product is not intended to diagnose, treat, cure, or prevent any disease.
** Percent Daily Value based on a 2,000 calorie diet.
How to Take MoveWell™ Plus
1 softgel
Daily
Full glass of water
Manufactured in the USA

Our line of natural products, manufactured in the USA with domestic and imported ingredients, employs stringent quality control standards that exceed expectations set by cGMP (Current Good Manufacturing Practices).

3rd Party Tested

We double down on our commitment to truth in labeling, ingredient safety, and product potency with independent, 3rd party testing, giving you peace of mind that what's on the label is also what's inside the bottle.
---
MoveWell™ Plus Reviews
In the interest of transparency, we never use incentives to influence these reviews.
Write a Review
the 1st month I was amazed at the relief I had in overall body pain.This time I tried the one that you only have to take 1 a day (the 1st bottle I bought was 4 a day (Crossing my fingers I get same relief from 1 a day!

Otherwise seems ok.

This product has helped so much with my husbands joint pain in his hands and knees.

Desperate for relief in hip and back this is the go to product love it will be buying more thanks movewell plus

Product is priced in line with competitors, but the free shipping made a big difference. Came in a timely manner. Time will tell.

It works! Very happy with this product a big 5

Didn't seem to help the joints.

Would buy again .........

I would recommend this to anyone with joint pain

Had chronic knee pain but after three months of taking this product I have no more pain!