Gluten-Free
Dairy-Free
Preservative-Free
Shellfish-Free
Sugar-Free
---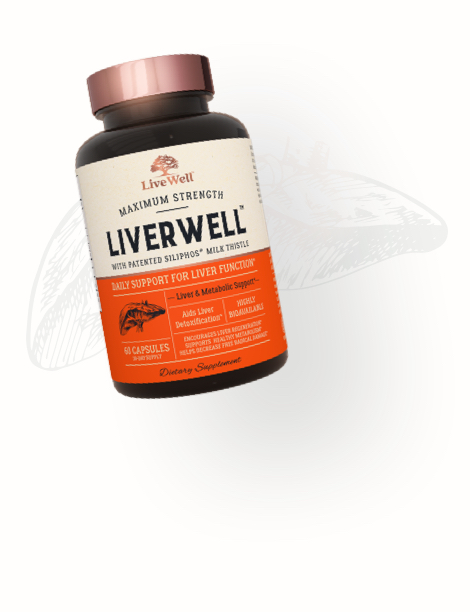 Offering: LiverWell™
Intention: Liver & Metabolic Health
LiverWell™ combines patented Siliphos® bioavailable silybin milk thistle extract, clinically shown to aid liver and kidney function, with the detoxifying power of N-Acetyl Cysteine and the reparative strength of Alpha Lipoic Acid. The addition of Zinc and Selenium boost antioxidant protection from free radicals to maximize liver health - so you can live(r) well, naturally.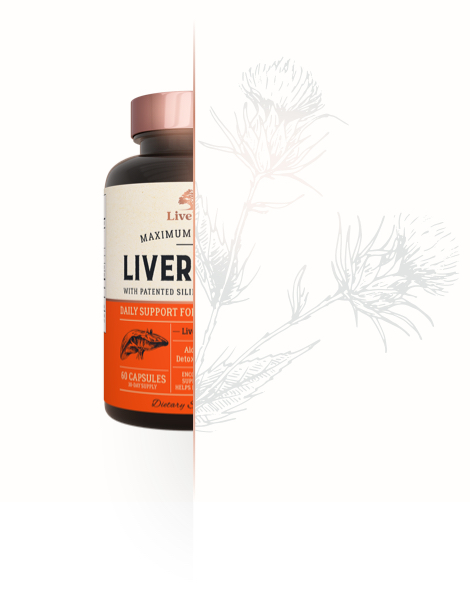 The Source
Siliphos® is derived from milk thistle, which has been used for millennia in Ancient Chinese Medicine and Ayurvedic Medicine as a way of combating toxins in the body. Numerous modern studies have shown that milk thistle helps repair liver damage, and Siliphos® builds on that intrinsic benefit by adding increased bioavailability for improved effectiveness.
N-Acetyl Cysteine is a chemical compound that the body breaks down into the amino acid, L-cysteine. As a medicine, its uses are so widespread that it appears on the World Health Organization's List of Essential Medicines. As a dietary supplement, N-Acetyl Cysteine is an important detoxifying agent with powerful antioxidant abilities that help reduce oxidative stress on the liver.
Alpha Lipoic Acid is another incredible antioxidant and anti-inflammatory included in LiverWell™ to benefit the liver specifically. ALA's antioxidant role may help prevent and reduce the aging effects caused by oxidative stress and inflammation.
Key Ingredients
milk thistleSiliphos
You can rest assured knowing there are never any harmful fillers or additives, just whole, natural ingredients.
Supplement Facts
Serving Size: 2 capsules | Servings Per Container: 30
Amount Per Serving
%DV

Siliphos®

(Silybin-soy lecithin formulation containing 29.7% to 36.3% of silybin)

80 mg
83333%

N-Acetyl Cysteine

800 mg

Alpha Lipoic Acid

100 mg

Zinc Glycinate

15 mg

Selenium

200 mcg
† Daily Value Not Established
Other Ingredients:
Vegetable Cellulose Capsule, Vegetable Oil Powder, Rice Flour.
Allergen Warning: Product contains soy lecithin
* These statements have not been evaluated by the Food and Drug Administration. This product is not intended to diagnose, treat, cure, or prevent any disease.*
How to Take LiverWell
1 capsule
Once in the morning & evening
Take with meal
Made in America

Our entire line of natural products are proudly manufactured in the USA, employing stringent quality control standards that exceed expectations set by cGMP (Current Good Manufacturing Practices).

3rd Party Tested

We double down on our commitment to truth in labeling, ingredient safety, and product potency with independent, 3rd party testing, giving you peace of mind that what's on the label is also what's inside the bottle.
---
LiverWell Reviews
In the interest of transparency, we never use incentives to influence these reviews.
Write a Review
And after just the first dose, I noticed that the bloating had greatly improved and now on day 3, I am no longer feeling any pain.

from Amazon

This product gets great reviews. Since I drink socially I want a product I can trust.

from Amazon

Easy to take

from Amazon

Feel a difference already. Will purchase this one again !

from Amazon

Seems to help

from Amazon

Waited for 2 weeks feeling so much better for the results

from Amazon

Product recommended by a medical professional to boost immunity.

from Amazon

I've heard that this product really helps the liver and is very easy to swallow can't wait to get started thanks -

from Amazon

Waiting for results

from Amazon

I've been taking it for four days and I feel a difference. I'm not bloated. It's worth it.

from Amazon