Soy Free
Gluten Free
Dairy-Free
Preservative Free
Non-GMO
---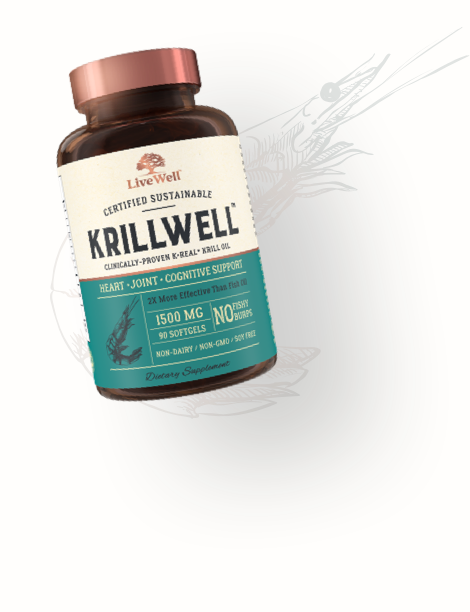 Offering: KrillWell™
Intention: Heart, Joint, & Cognitive Health
Formulated with potent amounts of EPA, DHA & the powerful antioxidant astaxanthin—our sustainably-sourced supplement is twice as absorbable as traditional fish oil, supporting your heart, joint, and brain health. We're keeping it Krill over here for a life well-lived.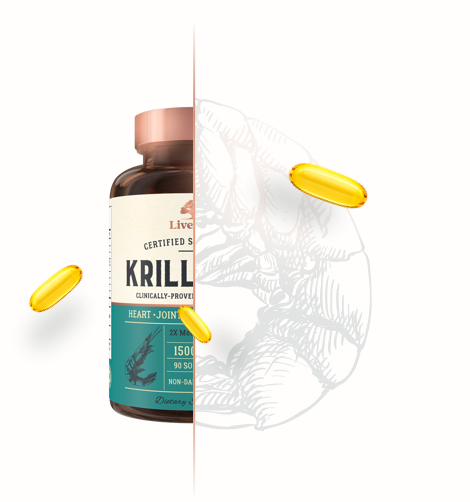 The Source
K·REAL® krill oil derived from Antarctic krill is extracted using a clinically-proven technology to enhance bioavailability and absorption. The Multi-Stage Oil (MSO®) extraction technology uses several proprietary processes to ensure freshness of the oil, as well as improved quality, purity, and consistency. This potent krill oil contains omega-3s, which support overall wellness, to help maintain a healthy heart as well as proper joint function.
Krill oil is naturally comprised of EPA (eicosapentaenoic acid) and DHA (docosahexaenoic acid), These long-chain omega-3 fatty acids work in combination to help maintain proper immune function while supporting brain, heart, and overall health.
Krill oil also contains astaxanthin, a potent antioxidant, more powerful than vitamin E, and more potent than vitamin C. This carotenoid has numerous unique properties, including its ability to help protect against free radicals and aid cellular longevity.
Key Ingredients
Antarctic KrillK-Real® Krill Oil
You can rest assured knowing there are never any harmful fillers or additives, just whole, natural ingredients.
Supplement Facts
Serving Size: 3 Softgels | Servings Per Container: 30
| | Amount Per Serving | %DV |
| --- | --- | --- |
| Pure Krill Oil | 1500mg | |
| Calories | 15 | |
| Calories From Fat | 15 | |
| Total Fat | 1.5 g | 4.5% |
| Total Omega | 180 mg | * |
| EPA | 90 mg | * |
| DHA | 60 mg | * |
| Phospholipids | 285 mg | * |
| Astaxanthin | 600 mg | * |
* Daily Value Not Established
Other Ingredients:
Gelatin (Kosher and Halal), Vegetable Glycerin, and Purified Water
* These statements have not been evaluated by the Food and Drug Administration. This product is not intended to diagnose, treat, cure, or prevent any disease.
** Percent Daily Value based on a 2,000 calorie diet.
Allergen Warning:
Contains Shellfish

*These statements have not been evaluated by the Food and Drig Administration. This is not intended to diagnose, trat, cure, or prevent any disease.
How to Take KrillWell
3 Softgels
Daily
8 oz. Glass of water
Made in America

Our entire line of natural products are proudly manufactured in the USA, employing stringent quality control standards that exceed expectations set by cGMP (Current Good Manufacturing Practices).

3rd Party Tested

We double down on our commitment to truth in labeling, ingredient safety, and product potency with independent, 3rd party testing, giving you peace of mind that what's on the label is also what's inside the bottle.
---
KrillWell Reviews
In the interest of transparency, we never use incentives to influence these reviews.
Write a Review
No burping

from Amazon

Great product

from Amazon

No aftertaste with this product - also easy to swallow.

from Amazon

The bottle came in good condition. No exploded pills. I'm waiting to try them. Will update once I have finished them.

from Amazon

Good product

from Amazon

I've tried these over we're just seeing mega red which I have purchased in the past I did a comparison review on consumer reports and they recommended this product one out of five it rated number two so I thought I would try it.

from Amazon

Great product

from Amazon

So far I am pleased after 6 months. Definitely going to keep it up

from Amazon

No after taste......for short term memory.

from Amazon

Great krill oil supplement!

from Amazon