Soy Free
Gluten Free
Dairy-Free
Preservative Free
Non-GMO
---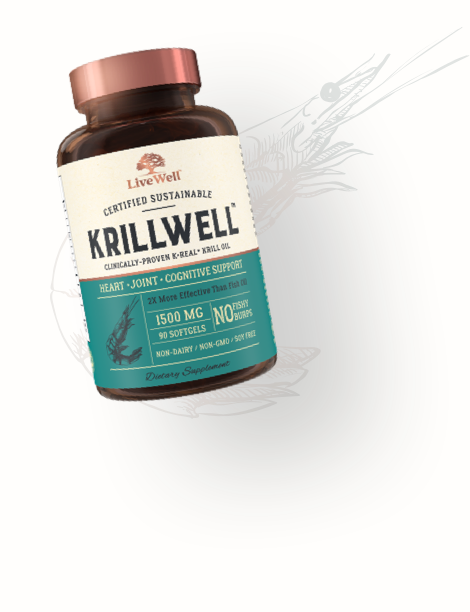 KrillWell™
Heart, Joint, and Cognitive Support*
KrillWell™ combines 100% pure, clinically-proven K·REAL® krill oil, using a Multi-Stage Oil (MSO®) extraction technology that boosts bio-availability and enhances absorption. Containing potent amounts of EPA and DHA and the powerful antioxidant astaxanthin, sustainably-sourced KrillWell™ krill oil is proven to be twice as effective as fish oil and is phospholipid-bound, ensuring increased bioavailability, so you can
live well.
Aids function for maintaining cognitive health, a fast metabolism, strength of muscles, strong bones, youthful skin, and healthy tissue.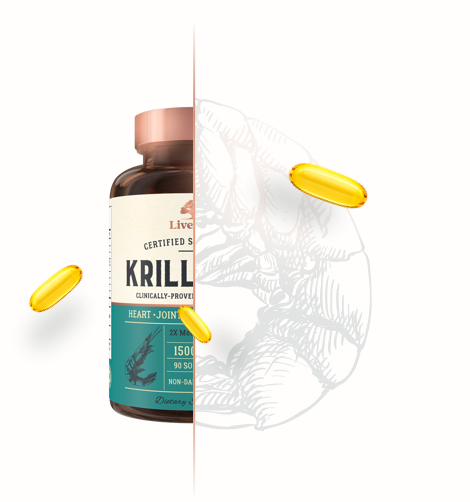 The Source
K·REAL® krill oil derived from Antarctic krill is extracted using a clinically-proven technology to enhance bioavailability and absorption. The Multi-Stage Oil (MSO®) extraction technology uses several proprietary processes to ensure freshness of oil, as well as improved quality, purity, and consistency. This potent krill oil contains omega-3s, which provide numerous health benefits, from improved cardiovascular health to decreased symptoms of arthritis, such as soreness and discomfort.
Krill oil is naturally comprised of EPA (eicosapentaenoic acid) and DHA (docosahexaenoic acid), long-chain omega-3 fatty acids that work in combination to address autoimmune diseases, brain health, heart problems, and many other conditions affecting your health.
Krill oil also contains astaxanthin, a potent antioxidant, more powerful than vitamin E by about 550 times and 6,000 times more potent than vitamin C. This carotenoid has numerous unique properties, including its ability to neutralize free radicals, helping to prevent cellular damage.
Key Ingredients
Antarctic KrillK-Real® Krill Oil
You can rest assured knowing there are never any harmful fillers or additives, just whole, natural ingredients.
Supplement Facts
Serving Size: 3 Softgel | Servings Per Container: 30
Phospholipids285 mg*Astaxanthin600 mg*
| | Amount Per Serving | %DV |
| --- | --- | --- |
| Pure Krill Oil | 150mg | |
| Calories | 15 | |
| Calories From Fat | 15 | |
| Total Fat | 1.5 g | 4.5% |
| Total Omega | 180 mg | * |
| EPA | 90 mg | * |
| DHA | 60 mg | * |
* Daily Value Not Established
Other Ingredients:
Rice Bran Oil, Gelatin, Mixed Tocopherols, Vitamin E, Glycerin, Purified Water, Yellow Beeswax, Annatto Extract, Betatene® Natural Beta Carotene, Titanium Dioxide
* These statements have not been evaluated by the Food and Drug Administration. This product is not intended to diagnose, treat, cure, or prevent any disease.
** Percent Daily Value based on a 2,000 calorie diet.
Allergen Warning:
Contains Shellfish

*These statements have not been evaluated by the Food and Drig Administration. This is not intended to diagnose, trat, cure, or prevent any disease.
How to Take KrillWell
3 Softgels
Daily
8 oz. Glass of water
Made in America

Our entire line of natural products are proudly manufactured in the USA, employing stringent quality control standards that exceed expectations set by cGMP (Current Good Manufacturing Practices).

3rd Party Tested

We double down on our commitment to truth in labeling, ingredient safety, and product potency with independent, 3rd party testing, giving you peace of mind that what's on the label is also what's inside the bottle.
---
KrillWell Reviews
In the interest of transparency, we never use incentives to influence these reviews.
Write a Review
Be the first to review this product!