Soy-Free
Gluten-Free
Dairy-Free
Preservative-Free
Sugar-Free
Shellfish-Free
---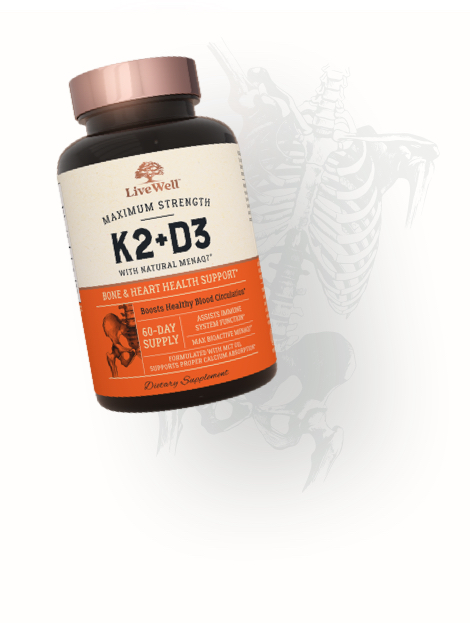 Offering: LiveWell K2+D3
Intention: Bone & Heart Health Support
"Love and marriage, they go together like a horse & carriage.. and you can't have one without the other!" K2+D3 combines the power of patented Natural MenaQ7® Menaquinone-7 vitamin K2 (clinically proven to help maintain bone health & density by guiding calcium to where it belongs) with vitamin D3, essential for proper calcium absorption. When taken together, these two potent and extensively researched nutrients work harmoniously to help support bone, teeth, and heart health - essential for a life well-lived.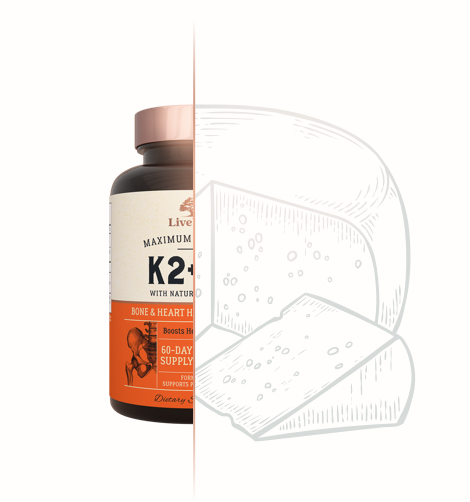 The Source
Calcium is essential to healthy bones, but calcium is also released by your bones into the bloodstream to help support heart function. Unfortunately, unless there is vitamin K2 present, this calcium may sometimes end up settling inside of arteries and blood vessels, forming unwanted deposits.
Vitamins D3 and K2 function in concert when supplemented together. The D3 and K2 assist the body in Matrix GLA Protein (MGP) production, which helps protect arterial lining buildup from unwanted calcium deposits. Working together, D3 and K2 promote both bone and heart health.
Vitamin K2 aids your body in using calcium efficiently to help maintain calcium levels within the normal range to support bone, kidney and heart health.
Unfortunately, during the winter months or for many people who work indoors, vitamin-D deficiency can be an issue. That's another reason why K2 is a powerhouse when combined with vitamin D3, which is formed naturally by your body when the skin is exposed to sunlight.
Key Ingredients
MenaQ7® Vitamin K2
Patented and clinically proven
Vitamin D3Supports immune health


You can rest assured knowing there are never any harmful fillers or additives, just whole, natural ingredients.
Supplement Facts
Serving Size: 1 softgel | Servings Per Container: 60
Amount Per Serving
%DV

Vitamin K2

(as Natural MenaQ7® Menaquinone-7)

100mcg
*

Vitamin D3

(as Cholecalciferol)

125 mcg (5000 IU)
625%
Other Ingredients:
Organic Non-GMO Avocado Oil, MCT Oil, Gelatin, Glycerine, Water.
* These statements have not been evaluated by the Food and Drug Administration. This product is not intended to diagnose, treat, cure, or prevent any disease.
** Percent Daily Value based on a 2,000 calorie diet.
How to Take K2+D3
1 softgel daily
8 oz of water
Take with meal
Made in America

Our entire line of natural products are proudly manufactured in the USA, employing stringent quality control standards that exceed expectations set by cGMP (Current Good Manufacturing Practices).

3rd Party Tested

We double down on our commitment to truth in labeling, ingredient safety, and product potency with independent, 3rd party testing, giving you peace of mind that what's on the label is also what's inside the bottle.
---
K2+D3 Reviews
In the interest of transparency, we never use incentives to influence these reviews.
Write a Review
My lab work is perfect and K2+D3 is small and exactly what the doctors ordered! Thank you so much for your amazing products!

from Amazon

Great line of full potency supplements made from the best ingredients. No crappy fillers. Currently taking the K2+D3 and COQ-10.

from Amazon

Have only been using for a short time but have no complaints- small and easy to swallow!

from Amazon

Excited to try it out.

from Amazon

The capsule is very small & easy to swallow.

from Amazon

Great Product with two in one vitamins to work better.

from Amazon

Seemed to work great with no reactions!

from Amazon

Protect your heart.

from Amazon

Looking forward to long lasting results. Easy to swallow with water or juice.

from Amazon

Nice combo and good for the body.

from Amazon