Soy-Free
Gluten-Free
Dairy-Free
Preservative-Free
Sugar-Free
Shellfish-Free
---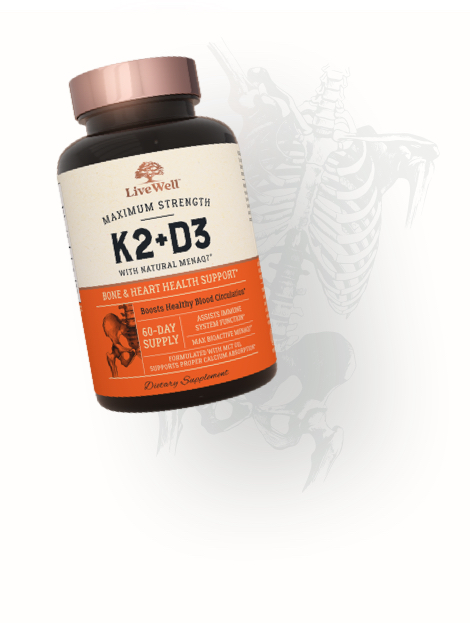 Offering: LiveWell K2+D3
Intention: Bone & Heart Health Support
"Love and marriage, they go together like a horse & carriage.. and you can't have one without the other!" K2+D3 combines the power of patented Natural MenaQ7® Menaquinone-7 vitamin K2 (clinically proven to aid bone mineral density & strength by guiding calcium to where it belongs) with vitamin D3, essential for proper calcium absorption. When taken together, these two potent and extensively researched nutrients work harmoniously to enhance the health of your bones, teeth, and heart - essential for a life well-lived.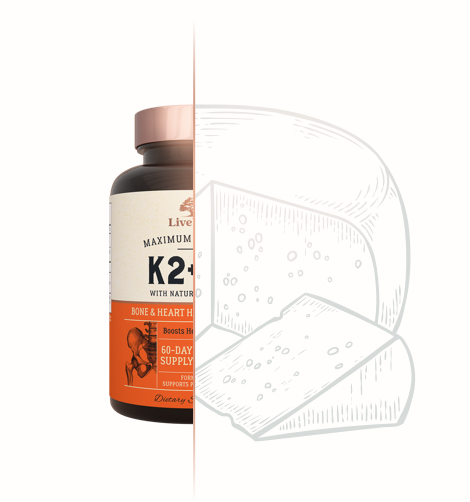 The Source
Calcium is essential to strong bones, but calcium is also released by your bones into the bloodstream to help your heart. Unfortunately, unless there is vitamin K2 present, this calcium can end up settling inside of arteries and blood vessels, forming potentially dangerous deposits.
Vitamins D3 and K2 function in concert during supplementation. The D3 and K2 help the body produce and activate Matrix GLA Protein (MGP), which forms along the arterial lining and helps protect it from the formation of calcium deposits.
Vitamin K2 aids your body in using calcium efficiently. This means the calcium released by bones doesn't linger in your bloodstream and that the amount of calcium released by your bones does not deplete their supply. Bone health and strength improve while also aiding your cardiovascular system.
Bolstering the effectiveness of the K2 is vitamin D3, which is formed naturally by your body when the skin is exposed to sunlight. However, during the winter months or for many people who work indoors, vitamin-D deficiency can be a real problem.
Vitamin D3, when taken in doses larger than what the sun provides, i.e., via supplementation, has been found to lower the risk of cancer, heart disease, and diabetes.
Key Ingredients
MenaQ7® Vitamin K2
Patented and clinically proven
Vitamin D3Aids immune health
You can rest assured knowing there are never any harmful fillers or additives, just whole, natural ingredients.
Supplement Facts
Serving Size: 1 softgel | Servings Per Container: 60
Amount Per Serving
%DV

Vitamin K2

(as Natural MenaQ7® Menaquinone-7)

100mcg
*

Vitamin D3

(as Cholecalciferol)

125 mcg (5000 IU)
625%
Other Ingredients:
Organic Non-GMO Avocado Oil, MCT Oil, Gelatin, Glycerine, Water.
* These statements have not been evaluated by the Food and Drug Administration. This product is not intended to diagnose, treat, cure, or prevent any disease.
** Percent Daily Value based on a 2,000 calorie diet.
How to Take K2+D3
1 softgel daily
8 oz of water
Take with meal
Made in America

Our entire line of natural products are proudly manufactured in the USA, employing stringent quality control standards that exceed expectations set by cGMP (Current Good Manufacturing Practices).

3rd Party Tested

We double down on our commitment to truth in labeling, ingredient safety, and product potency with independent, 3rd party testing, giving you peace of mind that what's on the label is also what's inside the bottle.
---
K2+D3 Reviews
In the interest of transparency, we never use incentives to influence these reviews.
Write a Review
I take this daily as part of my health routine & will continue to purchase this!

from Amazon

I love the easy of swallowing the capsule with no aftertaste.

from Amazon

My hormones were crazy, my Dr told me about k2+d3.

from Amazon

Haven't tried it yet, but I love the collagen peptides. Will be trying more of LiveWell products.

from Amazon

Small pill easy to swallow.

from Amazon

I appreciate the smaller capsule and have noted more energy.

from Amazon

So I did!

from Amazon

easy to take

from Amazon

Product is ultra small pill packed with the nutrients I was looking for in bone health

from Amazon

My doctor instructed me to do so and I like the fact this product is made from natural ingredients.

from Amazon