Vegan
Dairy Free
Shellfish Free
Peanut Free
Gluten Free
Non-GMO
Good Manufacturing Practice
---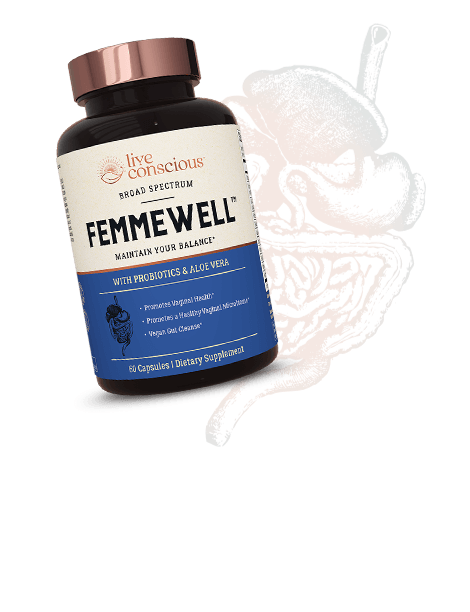 Offering: FemmeWell™
FemmeWell contains a unique combination of clinically studied herbs and botanicals, fiber-digesting enzymes and 12 billion CFUs of potent probiotics designed to balance microscopic intestinal flora, provide powerful digestive support, and support the body's natural immune defenses.* The addition of aloe vera to this potent formula promotes the rebuilding of a healthy intestinal lining wall and a healthy vaginal ecosystem.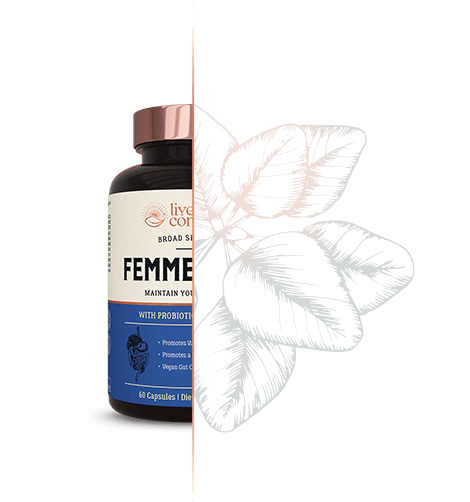 The Source
Problematic intruders can cause numerous issues to both vaginal and digestive health.* Lactobacillus acidophilus is a key probiotic strain in helping maintain a healthy balance to these key microbiomes.*
By helping the body's natural defenses, FemmeWell may take some of the chronic strain off the immune system while minimizing the risk of some health issues in both the digestive and vaginal microbiomes.*
FemmeWell is made with potent, wholesome ingredients like Oregano Leaf Extract, Wormwood Leaf Powder, Reishi Mushroom, Aloe Vera Leaf Gel, prebiotics Protease and Cellulase, and 12 billion CFUs of probiotics, making it a very effective yet gentle formula that supports vaginal health.*
Key Ingredients
aloe vera LEAF GELPromotes healthy gut lining*
Lactobacillus acidophilus
Supports healthy gut and vaginal microbiomes*
oregano leaf EXTRACTHelps reduce growth of unwanted gut intruders*
You can rest assured knowing there are never any harmful fillers or additives, just whole, natural ingredients.
Supplement Facts
Serving Size: 2 Capsules | Servings Per Container: 30
| | Amount Per Serving | %DV |
| --- | --- | --- |
| Oregano Leaf Extract 4:1 | 500mg | † |
| Caprylic Acid (Magnesium Caprylate) | 400 mg | † |
| Lactobacillus acidophilus L61A | 7.8 B CFU (36 mg) | † |
| Protease | 25,000 HUT | † |
| Cellulase | 3,200 CU | † |
| Aloe Vera Leaf Gel 200:1 | 50 mg | † |
| Larch Arabinogalactan | 50 mg | † |
| Anise Seed 4:1 Extract | 50 mg | † |
| Black Walnut Hulls Powder | 50 mg | † |
| Wormwood Leaf Powder | 50 mg | † |
| Reishi Mushroom 4:1 | 25 mg | † |
† Daily Value Not Established
Other Ingredients:
Vegetable Cellulose Capsule, Rice Flour, Silica
Contains Tree Nuts (Black Walnut)
* These statements have not been evaluated by the Food and Drug Administration. This product is not intended to diagnose, treat, cure, or prevent any disease.
** Percent Daily Value based on a 2,000 calorie diet.
How to Take FemmeWell™
2 capsules
One in the morning and
one in the evening
Full glass of water
Manufactured in the USA

Our line of natural products, manufactured in the USA with domestic and imported ingredients, employs stringent quality control standards that exceed expectations set by cGMP (Current Good Manufacturing Practices).

3rd Party Tested

We double down on our commitment to truth in labeling, ingredient safety, and product potency with independent, 3rd party testing, giving you peace of mind that what's on the label is also what's inside the bottle.
---
FemmeWell™ Reviews
In the interest of transparency, we never use incentives to influence these reviews.
Write a Review
For my health

Worked as Advertised.

Good luck

I will continue to take this every day. Great product

After a week of using this product, my body is settling down, I'm back to dropping pounds again, and I'm grateful for the slow restoration of a healthy gut.

This does the trick! I love this product.

Had very good results with this

Think it's pretty good, no side effects. I will keep taking and see how it works over time.

Excelente

It's good all natural need to wait longer for results