Gluten Free
Dairy Free
Preservative Free
Non-GMO
---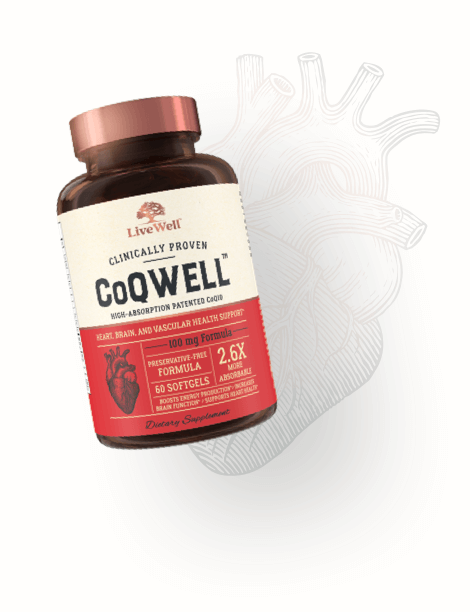 Offering: CoQWell™
Intention: Heart Health
CoQWell™ contains a patented and powerful form of coenzyme Q10, an essential antioxidant that supports heart health and immune function. CoQ10 can help support the health and function of energy-intensive organs like the heart, by providing the energy heart cells need. The highly bioavailable CoQ10 in the CoQWell™ formula helps restore the body's CoQ10 levels, to ensure proper heart function is maintained.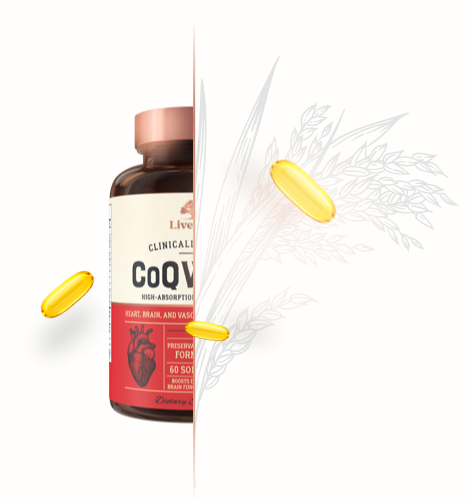 The Source
Coenzyme Q10 (CoQ10) has been shown to help maintain proper energy production in the body. As an essential antioxidant, CoQ10 also protects against oxidative stress that can occur in highly active organs like the heart. Providing both energy and protection, CoQ10 is an important nutrient for supporting heart health. Also, statin medications have been known to reduce levels of CoQ10 in the body.‡

CoQsol® is a patented, oil-based formulation of CoQ10 designed for greater rates of absorption than generic forms.* When combined with natural antioxidants, vitamins A and E, this unique formula helps to maintain proper heart and immune system function.
Key Ingredients
Rice Bran OilNatural vitamin E source
Coenzyme Q10Antioxidant effects
Pro-Vitamin ANatural beta-carotene
You can rest assured knowing there are never any harmful fillers or additives, just whole, natural ingredients.
Supplement Facts
Serving Size: 1 Softgel | Servings Per Container: 60
| | Amount Per Serving | %DV |
| --- | --- | --- |
| Coenzyme Q10 | 100mg | † |
| Vitamin A (as Beta Carotene) | 2334 IU | 78% |
| Vitamin E | 100 IU | 447% |
| Total Calories | 3.66 | † |
| Total Fat | 285.63 mg | <1%** |
| Saturated Fat | 51.45 mg | <1%** |
| Trans Fat | 0 mg | † |
Other Ingredients:
Rice Bran Oil, Gelatin, Mixed Tocopherols, Vitamin E, Glycerin, Purified Water, Yellow Beeswax, Annatto Extract, Betatene® Natural Beta Carotene, Titanium Dioxide
* These statements have not been evaluated by the Food and Drug Administration. This product is not intended to diagnose, treat, cure, or prevent any disease.
** Percent Daily Value based on a 2,000 calorie diet.
‡ CoQWell is not meant to serve as a replacement for statin therapy. You should not discontinue taking any prescription medications when supplementing with CoQWell.
How to Take CoQWell
1 softgel
Anytime
Full glass of water
Manufactured in the USA

Our line of natural products, manufactured in the USA with domestic and imported ingredients, employs stringent quality control standards that exceed expectations set by cGMP (Current Good Manufacturing Practices).

3rd Party Tested

We double down on our commitment to truth in labeling, ingredient safety, and product potency with independent, 3rd party testing, giving you peace of mind that what's on the label is also what's inside the bottle.
---
CoQWell Reviews
In the interest of transparency, we never use incentives to influence these reviews.
Write a Review
I felt the difference in 1 week of taking this

Love this company

Works great!

When I researched the internet looking for a highly rated product this is the one that stood out for quality.

Yeah

After nearly 6 months, I find CoQWell has helped me. I use this brand of supplements exclusively, because I've had no allergic reactions.

Easy to swallow soft gel pill.

This product helps me Alot. I will be buying it again. Thank you

When I received the product the bottom of the box was open.

Small pill, easy to swallow, good flavor.