Gluten Free
Dairy Free
Preservative Free
Non-GMO
---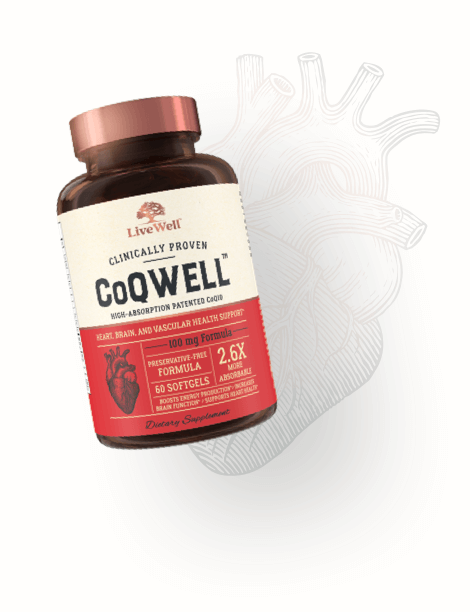 Offering: CoQWell™
Intention: Heart, Brain, and Vascular Health
CoQWell™, with patented coenzyme Q10, contains a powerful combination of antioxidant and immune system-supporting properties that promote healthy levels of cholesterol, blood sugar, cellular energy, heart and brain function. It supports your cognitive health, a fast metabolism, strength of muscles, strong bones, youthful skin, and healthy tissue.

CoQWell's clinically-proven formula includes a 100mg daily serving of CoQsol®, replenishing the naturally occurring coenzyme in every cell of your body, fighting cellular deterioration and revitalizing your health. CoQWell's potent antioxidant properties are free of any artificial fillers - CoQ-critical for a life well-lived.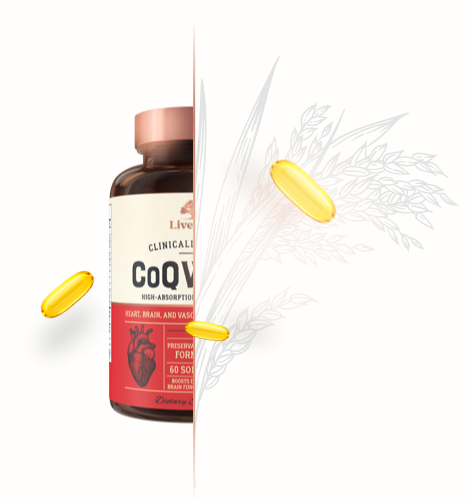 The Source
Coenzyme Q10 (CoQ10) is a powerful antioxidant that your body produces naturally and is an essential element for many daily functions, required by every single cell in the body. CoQ10 has strong potential for prevention and treatment of heart ailments, and aids function for maintaining cognitive health, a fast metabolism, strength of muscles, strong bones, youthful skin, and healthy tissue.
CoQsol® is a patented, oil-based formulation of CoQ10, in the ubiquinone form, clinically proven to enhance absorption more than 2.6 times better than generic CoQ10 crystalline powder. vital to human health. This unique, synergistic blend of CoQ10 delivers powerful antioxidants like natural vitamin E, Pro-vitamin A from natural beta-carotene, and rice bran oil directly to the organs most vital to health.
Key Ingredients
Rice Bran OilCrystaline powder
Coenzyme Q10powerful antioxidants
Pro-Vitamin Anatural beta-carotene
You can rest assured knowing there are never any harmful fillers or additives, just whole, natural ingredients.
Supplement Facts
Serving Size: 1 Softgel | Servings Per Container: 60
| | Amount Per Serving | %DV |
| --- | --- | --- |
| Coenzyme Q10 | 100mg | † |
| Vitamin A (as Beta Carotene) | 2334 IU | 78% |
| Vitamin E | 100 IU | 447% |
| Total Calories | 3.66 | † |
| Total Fat | 285.63 mg | <1%** |
| Saturated Fat | 51.45 mg | <1%** |
| Trans Fat | 0 mg | † |
Other Ingredients:
Rice Bran Oil, Gelatin, Mixed Tocopherols, Vitamin E, Glycerin, Purified Water, Yellow Beeswax, Annatto Extract, Betatene® Natural Beta Carotene, Titanium Dioxide
* These statements have not been evaluated by the Food and Drug Administration. This product is not intended to diagnose, treat, cure, or prevent any disease.
** Percent Daily Value based on a 2,000 calorie diet.
How to Take CoQWell
1 softgel
Anytime
Full glass of water
Made in America

Our entire line of natural products are proudly manufactured in the USA, employing stringent quality control standards that exceed expectations set by cGMP (Current Good Manufacturing Practices).

3rd Party Tested

We double down on our commitment to truth in labeling, ingredient safety, and product potency with independent, 3rd party testing, giving you peace of mind that what's on the label is also what's inside the bottle.
---
CoQWell Reviews
In the interest of transparency, we never use incentives to influence these reviews.
Write a Review
Liked the speed of delivery

from Amazon

It is good for my health

from Amazon

Love it

from Amazon

Perfect addition to my statin medication

from Amazon

I've been on Rosuvastatin for my cholesterol for several years and it has helped lower my LDL cholesterol and generally improve all my cholesterol readings, however, when I began taking CoQWell my next lipid test showed a remarkable improvement in my cholesterol tests!

from Amazon

Great product, felt the effects after one week!

from Amazon

Could not be happier with this product.

from Amazon

This was a great add to my daily regimen. Superior ingredient list with no junk additives.

from Amazon

It is easy on my stomach.

from Amazon

HAVEN'T TAKEN THIS PRODUCT YET.CURRENTLY TAKING MOVE WELL WHICH IS GREAT. NO FILLERS IS KEY!!!

from Amazon