Gluten Free
Dairy Free
Preservative Free
Non-GMO
---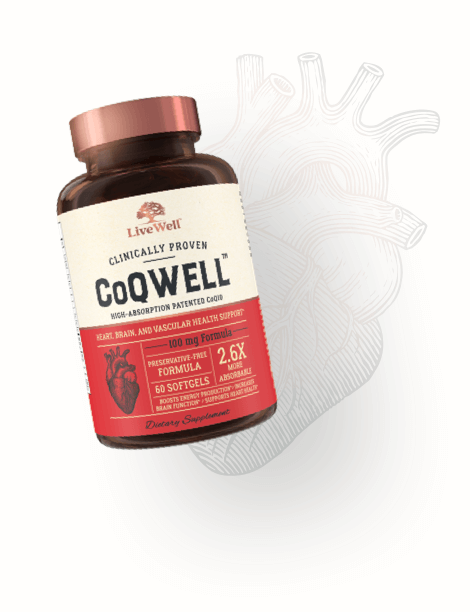 Offering: CoQWell™
Intention: Heart, Brain, and Vascular Health
CoQWell™, with patented coenzyme Q10, contains a powerful combination of antioxidant and immune system-supporting properties. Formulated to promote cellular, brain & heart health, while also helping to maintain cholesterol levels & blood sugar already within the normal range. A body of clinical research supports CoQ10's ability to assist muscular endurance, bone and cardiovascular health.

CoQWell uses clinically studied ingredients, including 100 mg daily serving of CoQsol®, replenishing the naturally occurring coenzymes in your body with potent antioxidants to help promote cell-longevity. CoQWell's formulation is free of any artificial fillers — CoQ-critical for a life well-lived.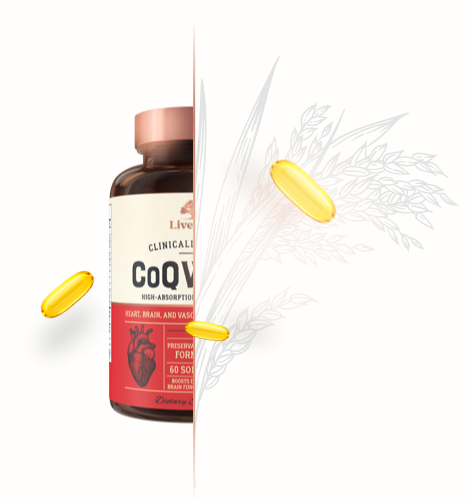 The Source
Coenzyme Q10 (CoQ10) is a powerful antioxidant that your body naturally produces to help power every cell in your body—working to promote heart, skin, muscle, and bone health.
CoQsol® is a patented, oil-based formulation of CoQ10, in the ubiquinone form, clinically proven to enhance absorption more than 2X better than generic CoQ10 crystalline powder. This unique, synergistic blend of CoQ10 delivers powerful antioxidants like natural vitamin E, Pro-vitamin A from natural beta-carotene, and rice bran oil as an added boost to your most vital systems.
Key Ingredients
Rice Bran OilCrystaline powder
Coenzyme Q10powerful antioxidants
Pro-Vitamin Anatural beta-carotene
You can rest assured knowing there are never any harmful fillers or additives, just whole, natural ingredients.
Supplement Facts
Serving Size: 1 Softgel | Servings Per Container: 60
| | Amount Per Serving | %DV |
| --- | --- | --- |
| Coenzyme Q10 | 100mg | † |
| Vitamin A (as Beta Carotene) | 2334 IU | 78% |
| Vitamin E | 100 IU | 447% |
| Total Calories | 3.66 | † |
| Total Fat | 285.63 mg | <1%** |
| Saturated Fat | 51.45 mg | <1%** |
| Trans Fat | 0 mg | † |
Other Ingredients:
Rice Bran Oil, Gelatin, Mixed Tocopherols, Vitamin E, Glycerin, Purified Water, Yellow Beeswax, Annatto Extract, Betatene® Natural Beta Carotene, Titanium Dioxide
* These statements have not been evaluated by the Food and Drug Administration. This product is not intended to diagnose, treat, cure, or prevent any disease.
** Percent Daily Value based on a 2,000 calorie diet.
How to Take CoQWell
1 softgel
Anytime
Full glass of water
Made in America

Our entire line of natural products are proudly manufactured in the USA, employing stringent quality control standards that exceed expectations set by cGMP (Current Good Manufacturing Practices).

3rd Party Tested

We double down on our commitment to truth in labeling, ingredient safety, and product potency with independent, 3rd party testing, giving you peace of mind that what's on the label is also what's inside the bottle.
---
CoQWell Reviews
In the interest of transparency, we never use incentives to influence these reviews.
Write a Review
My neurologist put me on this as well as B to help with my migraine and after 45 days I feel the difference, I also have more energy.

from Amazon

I will be back to give a update after some time has passed while I continue taking them.

from Amazon

Easy to take and convenient.

from Amazon

Very satisfied

from Amazon

Seems good. My husband is taking it too.

from Amazon

I feel energetic and vibrant

from Amazon

Thank you

from Amazon

I have been taking CoQwell for about two months, my energy levels are definitely up! this is my 3rd bottle and i'm planning to keep taking it.

from Amazon

Love this product because of the attention to detail.

from Amazon

Excellent, no taste, easy to swallow and I believe it is a quality product.

from Amazon