Save Up To 32% Off When You Order OmegaWell Today!
Try it Risk-Free With Our 365-Day Money-Back Guarantee.


Subscribe & Save (UP TO 32% off)
One-Time Purchase
Automatic Delivery
+ FREE SHIPPING!
---
3 Bottles

every 3 months

Month Supply

24% OFF
every 3 months
Your Price
$18.99each
---
You Save: $18.00
Buy Now
---
6 Bottles

every 6 months

Month Supply

32% OFF
every 6 months
Your Price
$16.99each
---
You Save: $48.00
Buy Now
---
1 Bottle

every month

Month Supply

16% OFF
every month
Your Price
$20.99each
---
You Save: $4.00
Buy Now
---
3

Bottles

Month Supply

16%

OFF
Your Price
$20.99each
---
You Save: $12.00
+ FREE SHIPPING!
Buy Now
---
6

Bottles

Month Supply

24%

OFF
Your Price
$18.99each
---
You Save: $36.00
+ FREE SHIPPING!
Buy Now
---
1

Bottle

Month Supply

8%

OFF
Your Price
$22.99each
---
+ FREE SHIPPING!
Buy Now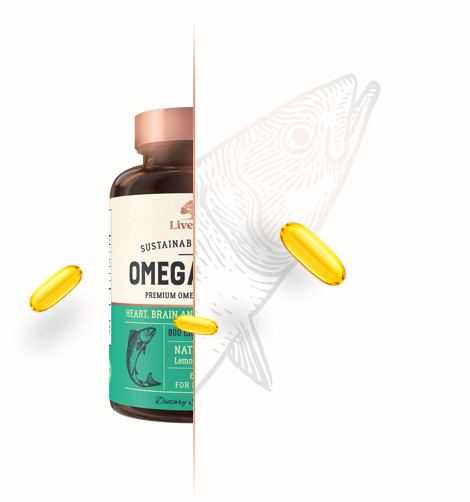 There's Nothing Fishy About These Benefits
OmegaWell is a sustainably sourced, high-quality fish oil supplement that contains a dose of EPA and DHA which support:
Joint health
Cognitive health
Heart health
Immune health
Skin health
Mental health
Each serving of our all-natural fish oil contains 800 mg of EPA and 600 mg of DHA and 60 lemon-coated capsules per bottle.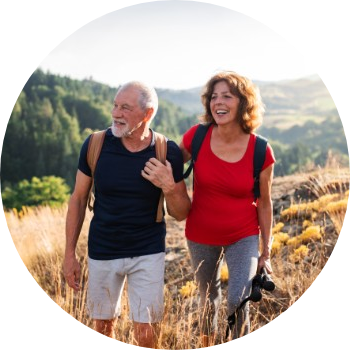 Our Omegas Are A Notch Above The Rest
3x More Fish Oil than Other Leading Brands:
Our triple-strength 2000 mg fish oil softgels deliver a pure, potent dose of Omega-3 essential fatty acids for maximum heart, joint, brain, and skin health.
100% Burpless Lemon Softgels:
Our enteric coating and natural lemon flavor ensure easy digestion. There is zero fishy aftertaste or nausea that can occur with other fish oil supplements.
No Toxic Fillers or Mercury:
Our Omega-3 fish oil supplements are tested rigorously by a 3rd party and purified to ensure maximum freshness, safety and superior quality.
---
Find out what our customers think of OmegaWell...
I have joint issues with my hands and knees. Since I have started taking Omegawell they feel great! I am sleeping better because my knees do not bother me as bad as they use to, so I am not waking up as often. Not to mention my skin looks healthier! I am looking forward to see what other changes happen as I continue taking this product.

- Samantha Little

My wife and I searched for a long time for a fish oil derived omega-3 supplement that didn't cause the unpleasant "fishy" after taste and burping. We were on another company's product but it was discontinued, so we had to search again. We are pleased to say our first try was with this product which is excellent. No "fishy" taste or after-taste and delivers a high dose of the desirable omega-3s in only two capsules.

- William Prendergrast

I am a nurse and I love supplements! I especially love ones that are made well and consist of the best ingredients and potency and do what they claim. I originally found this for my brother who is high stress he doesn't sleep enough and puts his body through a lot...he had high blood pressure and joint issues. Within a few days he noticed a huge difference in the way his body feels...his BP is normal and he feels so much better. This supplement has just enough of what a great fish oil should. I highly recommend it!

- Angie Stone
Ready to try LiveWell's OmegaWell for yourself?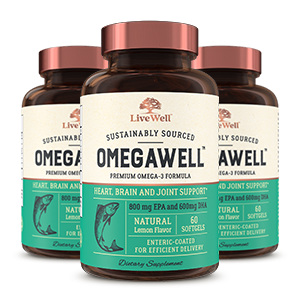 Fish oil contains two omega-3 fatty acids known as eicosapentaenoic acid (EPA) and docosahexaenoic acid (DHA). Studies show that these key omega-3s help to aid issues stemming from the immune system. Fish oil also helps maintain heart and brain health, promotes natural calmness, aids joint discomfort, while also helping to maintain blood pressure levels already within the normal range.


Sayonara Stiff Joints, Dry Skin & Brain Fog — or It's Free!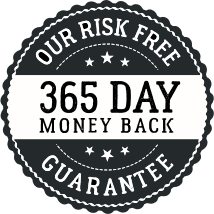 We are so confident in the benefits experienced by this product we've backed it up with a 365-day satisfaction policy as proof. Seeing, feeling, and healing is believing, therefore LiveWell's OmegaWell is backed by a 365-day money-back guarantee — zero questions asked. Nothing to lose, longevity to gain.
---