Soy Free
Dairy Free
Gluten Free
Shellfish Free
Sugar Free
Non GMO
Gluten Free
---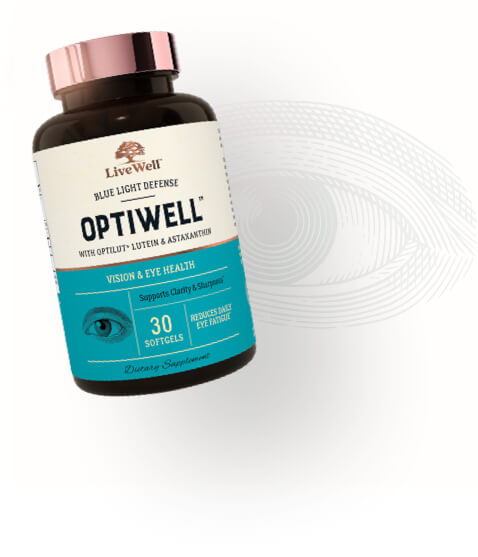 Offering: OptiWell™
Intention: Vision Health
Age-related vision issues stemming from UV light exposure typically affected the elderly. But advances in technology and changes in lifestyle (endless scrolling on our devices) have taxed our eyes to the point of experiencing a lifetime of blue light in just a few decades.
At LiveWell, we believe there's no reason to be blue, that's our point of view. Our cutting-edge, blue-blocking softgels feature Lutein and Astaxanthin, ingredients that are clinically proven to promote eye health, even when looking at a screen for long periods. It also helps alleviate pressure behind the eyes, assists alignment with your circadian rhythm, and supports visual clarity.
It's the outta sight, digital age answer we've been envisioning. It's time to get clear about eye health. OptiWell™ is your defense against blue rays and a glimpse into a clearer future.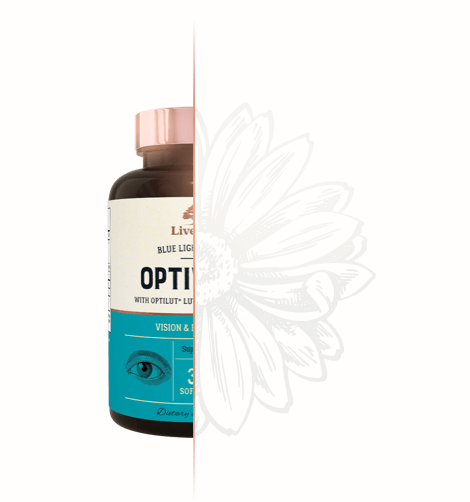 The Source
How does OptiWell help protect your eyes? By improving your natural defenses. Your eyes contain two important antioxidants, lutein and zeaxanthin, that help protect the cells in your eyes. Unfortunately, our bodies don't create these antioxidants on their own; you need to get them from somewhere else.
We formulated OptiWell with an all-natural Lutein concentrate, OptiLut®, which contains the optimal doses of lutein and zeaxanthin to support focus on close objects, promote blood flow to the retina, and help reduce eye tension. Derived from our friend, the marigold flower—OptiLut® marigolds are free from pesticides and sustainably sourced without the use of harsh chemicals.
The other important ingredient in eye health? Vitamin E, which helps protect against those pesky free radicals that have been known to damage the cells in your eyes. Vitamin E also helps maintain proper immune function and provides your skin with photoprotection to assist against UV-related issues. Put all this together and throw in the powerful antioxidant astaxanthin, and you have a crystal-clear idea of how much OptiWell can keep your sights set on fresh.
Key Ingredients
OptiLut®
Patented lutein
and zeaxanthin
Vitamin EPowerful antioxidant
Astaxanthin
Helps protect against free radicals


You can rest assured knowing there are never any harmful fillers or additives, just whole, natural ingredients.
Supplement Facts
Serving Size: 1 Softgel | Servings Per Container: 30
Amount Per Serving
%DV

OptiLut®

Lutein

Zeaxanthin

(meso-zeaxanthin & trans-zeaxanthin)

10 mg
2 mg
**

Vitamin E

180 mg
**

Astaxanthin

4 mg
**
Other Ingredients:
Bovine Gelatin, Glycerine, Sunflower Oil
* These statements have not been evaluated by the Food and Drug Administration. This product is not intended to diagnose, treat, cure, or prevent any disease.
** Percent Daily Value based on a 2,000 calorie diet.
How to Take OptiWell
1 Capsule
Once Daily
With Meal &
8oz Glass of Water
Manufactured in the USA

Our line of natural products, manufactured in the USA with domestic and imported ingredients, employs stringent quality control standards that exceed expectations set by cGMP (Current Good Manufacturing Practices).

3rd Party Tested

We double down on our commitment to truth in labeling, ingredient safety, and product potency with independent, 3rd party testing, giving you peace of mind that what's on the label is also what's inside the bottle.
---
OptiWell Reviews
In the interest of transparency, we never use incentives to influence these reviews.
Write a Review
Be the first to review this product!