We're excited to finally introduce our best-in-market Vitamin B12 supplement.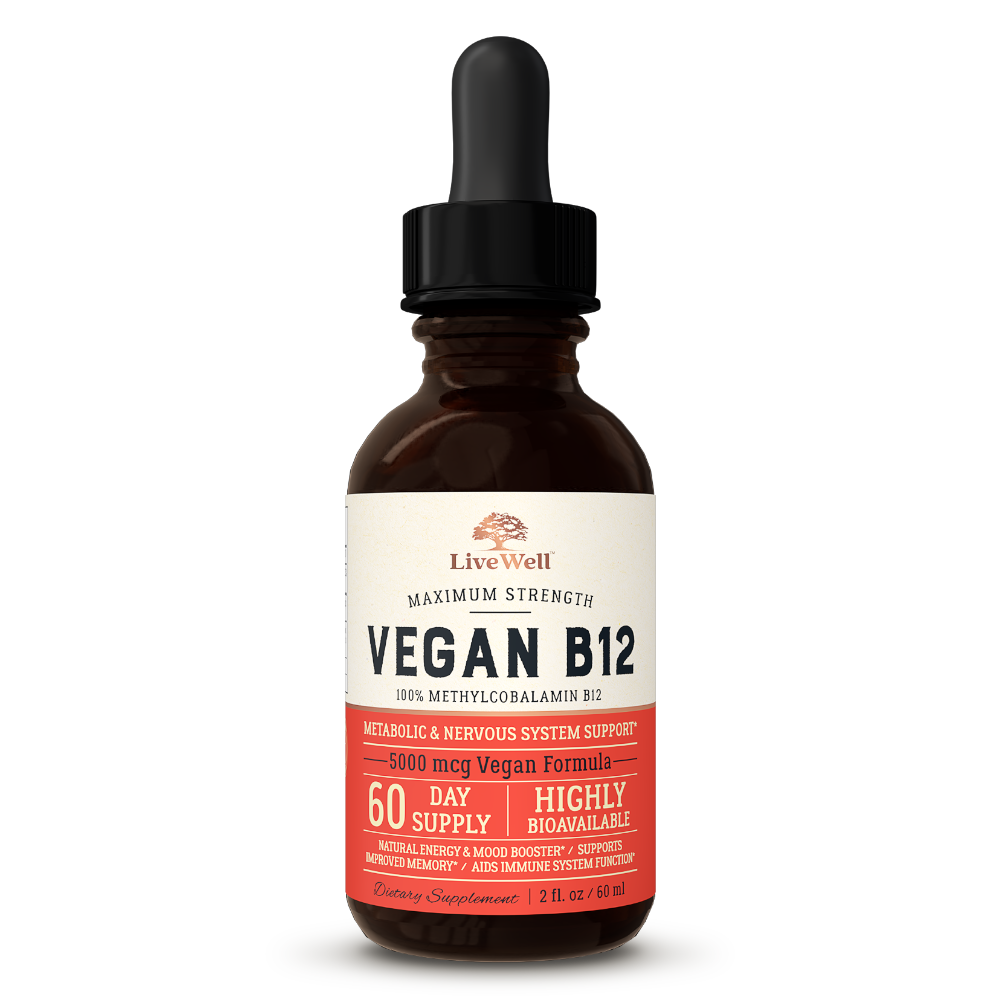 Here at LiveWell, we're proud of our reputation for potent, best-in-market formulations of powerful health supplements. We've earned the trust of our customers, and we don't take that for granted.
For a while now, many of you have been asking us the question, "When will LiveWell offer a Vitamin B12 supplement?"
The answer is: Today.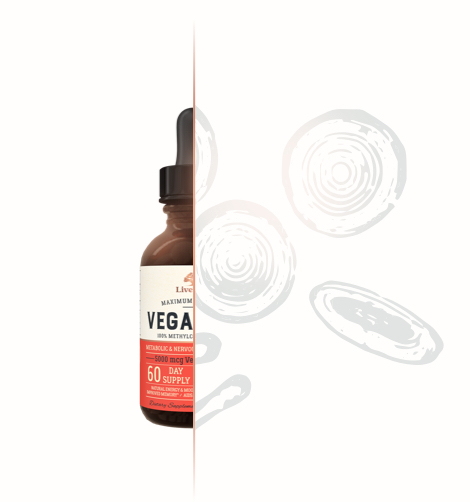 What Vitamin B12 Does
Vitamin B12 is a nutrient your body must have to keep your nerves and blood cells healthy. Not only is it critical to the creation and health of red blood cells (RBCs), it is also essential for producing all your genetic material -- or DNA.
In other words, if you have a B12 deficiency, your RBCs are unable to effectively carry oxygen to the other cells and tissues in your body, and you can become susceptible to nerve damage that leads to tiredness, mood problems, and tingling or numbness in the hands and feet.
Do You Need a B12 Supplement?
As healthy as they are in many other respects, vegans and vegetarians tend to have trouble getting enough B12 into their diets. Others who might need a Vitamin B12 supplement include:
People with Celiac, Crohn's, or Anemia
Those over the age of 50
Anyone who has received a gastrointestinal surgery
LiveWell's Vegan B12 - Best B12 on the Market
There are a lot of B12 options out there, but there are two extremely important points we've focused on to create our potent Vegan B12 supplement:
1 - Naturally sourced methylcobalamin
Many companies use a synthetic B12 called cyanocobalamin, which needs to be processed in the liver in order to become absorbable. This is why it is dangerous to take too much cyanobalamin.
Methylcobalamin, however, does NOT need to be processed in the liver, and so it is very safe and effective at high doses. Which brings us to...
2 - Each dose a whopping 5000 mcg
At this dose, you'll be sure to get as much B12 as your body needs without the risk that high doses of synthetic B12 pose. Additionally, Vegan B12 comes in liquid form to make it as absorbable as possible.
As with all LiveWell products, You can rest assured knowing there are never any harmful fillers or additives, just whole, natural ingredients.
Available Immediately on Amazon
Many of our customers have told us that they prefer making purchases on Amazon, so that they can enjoy the convenience and free two-day shipping for Prime members. That's why we've made our Vegan B12 supplement available on Amazon immediately.
If you've been waiting for LiveWell's B12 supplement, you don't have to wait any longer.