Soy-Free
Gluten-Free
Dairy-Free
Sugar-Free
---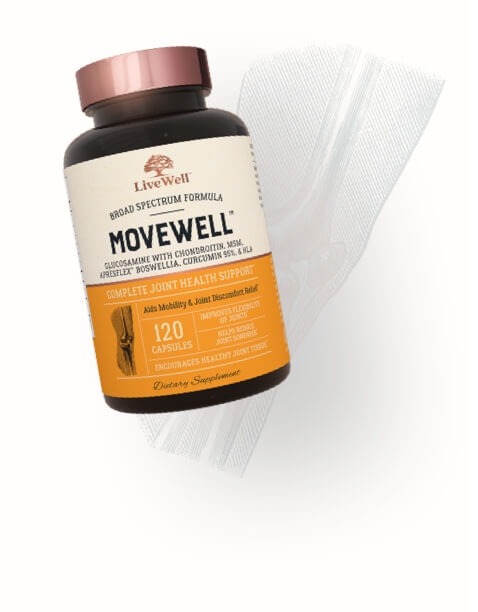 Offering: MoveWell™
Intention: Joint Support
Talk about a joint effort...MoveWell™ supports joint health with the one-two punch of glucosamine and chondroitin. This powerful supplement is perfect for anyone looking to promote mobility and flexibility by helping direct collagen to the joints. As part of our specially designed formula, we included MSM, AprèsFlex® Boswellia, curcumin, & hyaluronic acid to help protect your cells from oxidation while also maintaining joint health and flexibility. Sayonara stiff, sore mornings - hello evenings on the dance floor.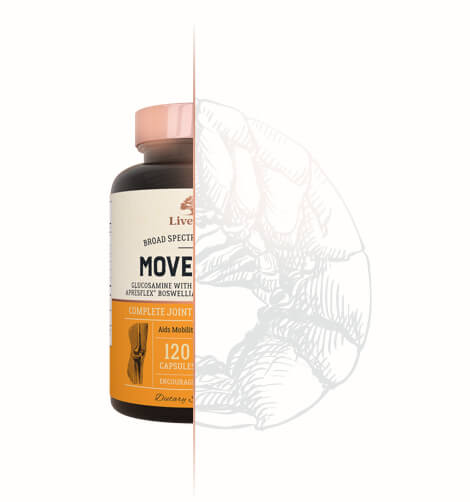 The Source
Glucosamine sulfate is derived from shellfish and is the most readily accepted form of glucosamine for the body. Glucosamine itself is an amino acid sugar that occurs naturally in fluid surrounding the joints.
Chondroitin sulfate is already present in the cartilage of your body. However, wear and tear, age, and other factors can cause a loss of cartilage, leading to a variety of joint issues. By including chondroitin in a supplement, it can help maintain cartilage and proper joint function.
AprèsFlex® Boswellia is a new composition of the clinically studied Boswellia serrata plant, also commonly called Indian frankincense. This extract is specifically designed to maintain joint and connective tissue health while promoting comfort and mobility. Clinical studies have shown that some individuals reported feeling a difference in as little as 7 days.
Hyaluronic acid (HLA) is an essential and naturally occurring part of the fluid your body needs to lubricate joints. By ensuring your body always has enough, you can aid joint discomfort.
Methylsulfonylmethane (MSM) is a powerful antioxidant that promotes glutathione production in the body to help maintain joint health and flexibility.
Key Ingredients
Glucosamine
Patented and clinically proven
Chondroitin
Supports immune health
AprèsFlex® Boswellia
Patented and clinically proven
You can rest assured knowing there are never any harmful fillers or additives, just whole, natural ingredients.
Supplement Facts
Serving Size: 4 Capsules | Servings Per Container: 30
Amount Per Serving
%DV

AprèsFlex®

(Boswellia serrata Extract)

100mg
**

Glucosamine Sulfate

1500 mg
**

Chondroitin Sulfate

600 mg
**

MSM (Methylsulfonylmethane)

600 mg
**

Curcumin 95%

100 mg
**

Hyaluronic Acid

100 mg
**
Other Ingredients:
Vegetable Oil Powder, Silica, Vegetable Cellulose Capsule
Allergen Warning: Contains shellfish.
* These statements have not been evaluated by the Food and Drug Administration. This product is not intended to diagnose, treat, cure, or prevent any disease.
** Percent Daily Value based on a 2,000 calorie diet.
How to Take MoveWell™
Take 2 capsules
Twice daily
Manufactured in the USA

Our line of natural products, manufactured in the USA with domestic and imported ingredients, employs stringent quality control standards that exceed expectations set by cGMP (Current Good Manufacturing Practices).

3rd Party Tested

We double down on our commitment to truth in labeling, ingredient safety, and product potency with independent, 3rd party testing, giving you peace of mind that what's on the label is also what's inside the bottle.
---
MoveWell™ Reviews
In the interest of transparency, we never use incentives to influence these reviews.
Write a Review
I have been on this for 3 months now, and I will not go without it !

Used for joint comfort in my knee and it works well!

I just ordered another one and I'll give an update on how I feel.

Liked it very much

Tried this along with knee exercises to avoid total knee replacement surgery. So far it is helping quite a lot.

This product had everything you should look for in a bone supplement and is third party tested a plus,but it's very pricy

Didn't dislike anything, but have no idea which pills are better for me than others, and doubt that anyonewho takes many pills can really tell which are better than others.

I looked long and hard to find a product I could take compatible with my digestive system.

I think they are helping

great product! really helps my joints!!