Soy Free
Gluten Free
Dairy Free
Preservative Free
Non-GMO
---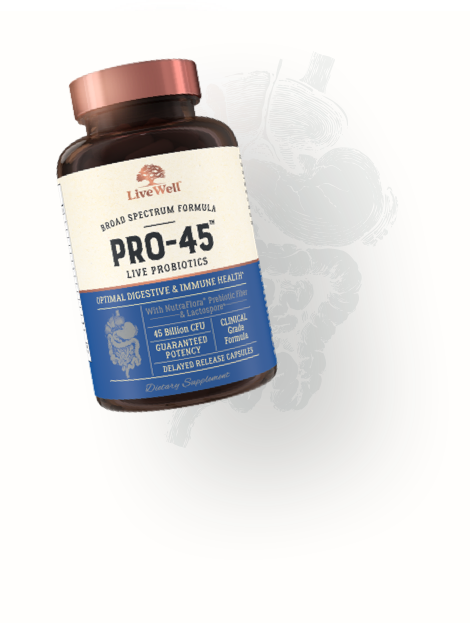 Offering: Pro-45™
Intention: Digestive & Immunity Support
Pro-45™ live probiotic strains... baby that's all we need… This broad-spectrum probiotic formula features 45 billion guaranteed live cultures and 11 clinically studied probiotic strains (per capsule) that assist with acid and bile resistance and their ability to colonize within the gut. Each vegetarian, delayed-release capsule contains NutraFlora® prebiotic fiber to help boost the vitality and growth of good gut flora, so you can live a balanced, awakened life; like a pro.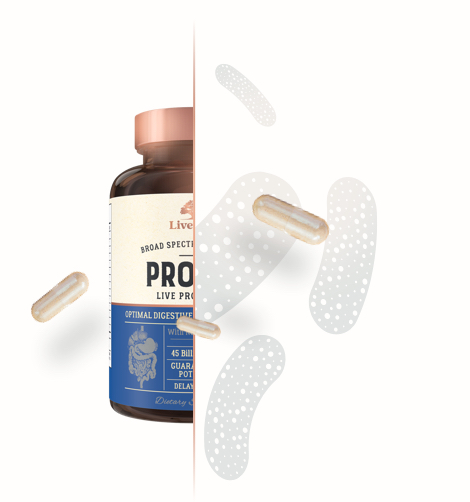 The Source
Pro-45™ is the ultimate broad-spectrum probiotic formula, made to provide 45 billion live cells per serving composed of 11 clinically studied, beneficial strains.
Probiotic microorganisms have been scientifically shown to play a crucial role in maintaining good health. Though present in many live foods, these beneficial bacteria are destroyed by heat processing, making it difficult for the live probiotic cultures to populate the intestinal tract where they play an essential role in preserving and protecting the health of the digestive and immune systems.
In fact, all organs and systems rely on the health of the digestive tract, marking proper digestion as an essential function for the body to absorb and utilize the nutrients it needs. This army of gut bacteria, numbering close to tens of trillions, is a delicate ecosystem that when thrown out of balance, can create major disturbances and discord in every major system of the body.
From our mood and mental health, to our physical endurance and strength, and even our body's ability to heal itself, probiotics are an essential part of a happy and strong gut microbiome.
Key Ingredients
Probiotics45 Billion Live Cells
NutraFlora®Prebiotic Fiber
You can rest assured knowing there are never any harmful fillers or additives, just whole, natural ingredients.
Supplement Facts
Serving Size: 1 Capsule | Servings Per Container: 30
| | Amount Per Serving | %DV |
| --- | --- | --- |
| Pro-45 Probiotic Blend | 500mg | * |
| Bifidobacterium lactis B42L | 13.5 Billion | * |
| Lactobacillus acidophilus L61A | 13.5 Billion CFU | * |
| Bifidobacterium longum B12L | 3.6 Billion | * |
| Bifidobacterium bifidum B66B | 3.6 Billion | * |
| Lactobacillus plantarum L23P | 3.6 Billion | * |
| Lactobacillus casei L30C | 3.6 Billion | * |
| Lactobacillus gasseri L22G | 1 Billion | * |
| Lactobacillus salivarius L1OS | 1 Billion | * |
| Lactobacillus rhamnosus L08R | 1 Billion | * |
| Lactobacillus bulgaricus L88B | 1 Billion | * |
| Lactospore® (Bacillus coagulans) | 1 Billion | * |
| Total CFU Count | 46.4 Billion | * |
| NutraFlora® Prebiotic Fiber | 100 mg | * |
*Daily Value Not Established
Other Ingredients:
Long Grain Rice Flour, Vegetable Cellulose (Veggie Caps)
*These statements have not been evaluated by the Food and Drug Administration. This product is not intended to diagnose, treat, cure, or prevent any disease.
How to Take Pro-45
1 Capsule
Daily
With Food & Full Glass of Water
Manufactured in the USA

Our line of natural products, manufactured in the USA with domestic and imported ingredients, employs stringent quality control standards that exceed expectations set by cGMP (Current Good Manufacturing Practices).

3rd Party Tested

We double down on our commitment to truth in labeling, ingredient safety, and product potency with independent, 3rd party testing, giving you peace of mind that what's on the label is also what's inside the bottle.
---
Pro-45 Reviews
In the interest of transparency, we never use incentives to influence these reviews.
Write a Review
I am very satisfied with this product!

This is the best probiotic I've tried. Provides what I need to digest food, etc. Great product!

This really helps with my gut health. I have less issues when I take this regularly

I take this everyday. It's easy to swallow and has no flavor. It helps with bowel movements.

Easy on stomach

Health reasons. Disliked nothing

My favorite probiotics

Works better than I could hope for

These seem to have stabilized (or helped to) my long time digestive issues. Take only one at lunch everyday.

I have been taking it for at least 3 years and it's been consistent. It does not need refrigeration.