Soy Free
Gluten Free
Dairy Free
Preservative Free
Non-GMO
---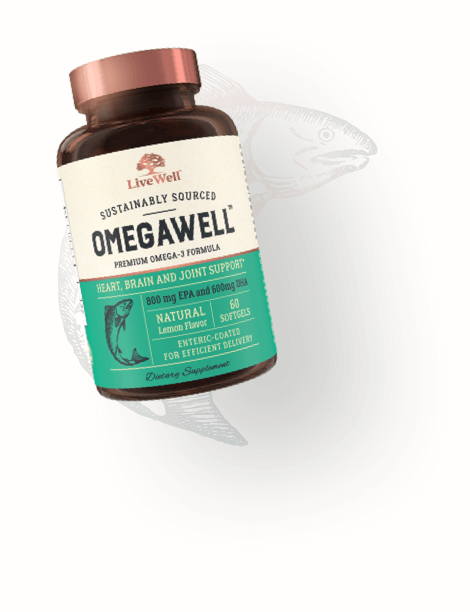 Offering: OmegaWell™
Intention: Heart, Brain, and Joint Health
Triple-strength OmegaWell™ is formulated for optimal results with a daily serving size that includes 800 mg of EPA and 600 mg of DHA. Specifically designed to support heart function and provide the benefits of the antioxidant powers of omega-3 fatty acids, OmegaWell's enteric-coated softgel supports easy, efficient delivery of sustainably sourced Omega-3s.*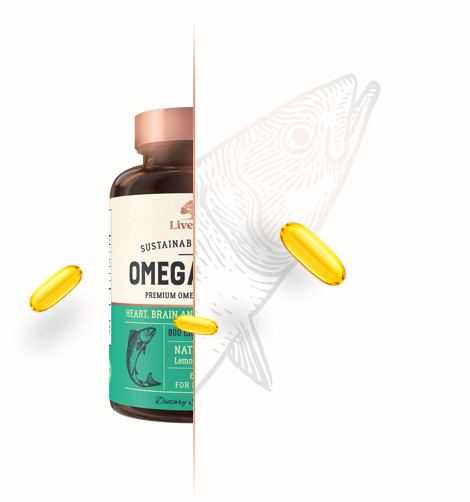 The Source
Fish oil contains two omega-3 fatty acids known as eicosapentaenoic acid (EPA) and docosahexaenoic acid (DHA). These key omega-3s have been shown to help issues stemming from the oxidative damage caused by free radicals in the body.*
In part due to its ability to reduce oxidative damage, fish oil can support a healthy heart and brain while also helping to reduce joint discomfort.*
Key Ingredients
Fish OilOmega-3 Fatty Acids
You can rest assured knowing there are never any harmful fillers or additives, just whole, natural ingredients.
Supplement Facts
Serving Size: 2 Softgels | Servings Per Container: 30
| | Amount Per Serving | %DV |
| --- | --- | --- |
| Fish Oil | 2000mg | † |
| Calories | 20 | † |
| Total Fat | 2 g | 4% |
| Saturated Fat | 0 g | † |
| EPA | 800 mg | † |
| DHA | 600 mg | † |
† Daily Value Not Established
Other Ingredients:
Vitamin E, Gelatin, Glycerin, Purified Water, Enteric Coating Powder
Allergen Warning: Contains Fish
* These statements have not been evaluated by the Food and Drug Administration. This product is not intended to diagnose, treat, cure, or prevent any disease.
How to Take OmegaWell
1 softgel
Twice Daily
With Food
Manufactured in the USA

Our line of natural products, manufactured in the USA with domestic and imported ingredients, employs stringent quality control standards that exceed expectations set by cGMP (Current Good Manufacturing Practices).

3rd Party Tested

We double down on our commitment to truth in labeling, ingredient safety, and product potency with independent, 3rd party testing, giving you peace of mind that what's on the label is also what's inside the bottle.
---
OmegaWell Reviews
In the interest of transparency, we never use incentives to influence these reviews.
Write a Review
I did quite a bit of research before I purchased a fish oil supplement. I wanted a high quality supplement, and LiveWell kept coming up at the top of the list. I also like that there is no fishy taste throughout the day.

I've always had a problems with high cholesterol. My blood works would come in around 1000. So long story short, it had been a year since I saw my doctor or took any meds. Had blood work done, my doctor was shocked to see my cholesterol had dropped significantly. He said whatever your doing keep it up. Have not changed anything in my diet or exercise -hardly do-but the only thing I'm doing different is taking this omega 3 fish pills 2x a day. I'm a believer, this stuff works, it did for me, now changing eat habits and exercising more. Thanks omegawell

I bought it for Heart Health. After 7-10 I notice my neck and knees were not hurting anymore. Not only does it help my heart, but also my joints!

After an annual check up a couple of years ago, it was reported by my doctor that my cholesterol was high, and I was having minor issues with stiffness in in my joints. Since I am a 63 year old health conscious male, I had been exercising but not enough and eating healthy but still needed to do more to get in better shape and improve the occasional instance of joint pain. When I first begin the regime, it was called LiveWell and I had done some research to find quality so that is how I discover the supplement. This year's annual showed improvement. Bad cholesterol down, good cholesterol increased, and stiffness is a whole lot less noticeable. I plan to continue with OmegaWell as I age because I believe I am getting results that enhances my quality of life.

I have joint pain in my hands and knees, since I have started taking Omegawell the pain in my hand and knees has decreased. I am sleeping better because my knees do not ache as bad as they use to, so I am not waking up as often.. Also I have noticed that my skin looks healthier. I am looking forward to see what other changes happen as I continue taking this product.

I researched a TON before ordering these. I am SO GLAD that I did order them because they are great! I can actually feel a difference when I take them or don't! And no fishy burps or weird tastes is the best part of these! They are easy to swallow, too! I recommend this brand to many friends and family!

Really like the fish oil. Delivered fast. Will order again when finished. Feel like I'm doing something good for myself.

Yes, just what I was looking for! Thank you Lord!

I love that there is no fishy flavor or aftertaste! I also love that I get all of what I need from Omega-3 from this one capsul! It's awesome!!

Okay, first of all, this is one of the only "fish pills" I can take that don't come back to haunt me with nauseating fish flavor. Secondly, it is the only one that has actually digested well. because the capsule seems softer, yet sturdy enough to be fine in the bottle. There is no odor, taste, and I cannot say enough how much I appreciate that because I simply am not a fan of fish. I swallow this with at least 8 oz of water. It comes in a month supply with makes it fresh and not like some of those rancid pills that come too many per bottle.