Soy Free
Gluten Free
Dairy Free
Preservative Free
Non-GMO
---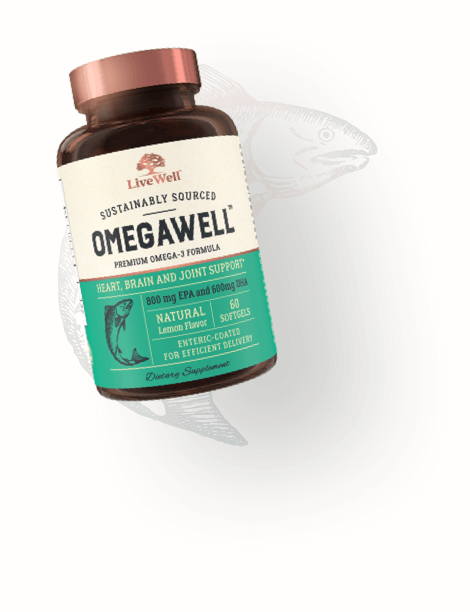 Offering: OmegaWell™
Intention: Heart, Brain, and Joint Health
Triple-strength OmegaWell™ is formulated for optimal results with a daily serving size that includes 800 mg of EPA and 600 mg of DHA. Specifically designed to support heart function and provide the benefits of the antioxidant powers of omega-3 fatty acids, OmegaWell's enteric-coated softgel supports easy, efficient delivery of sustainably sourced Omega-3s.*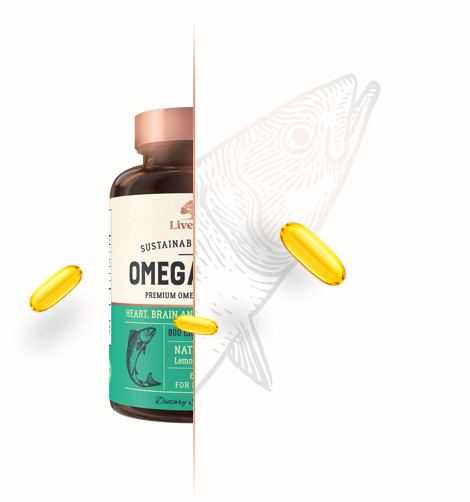 The Source
Fish oil contains two omega-3 fatty acids known as eicosapentaenoic acid (EPA) and docosahexaenoic acid (DHA). These key omega-3s have been shown to help issues stemming from the oxidative damage caused by free radicals in the body.*
In part due to its ability to reduce oxidative damage, fish oil can support a healthy heart and brain while also helping to reduce joint discomfort.*
Key Ingredients
Fish OilOmega-3 Fatty Acids
You can rest assured knowing there are never any harmful fillers or additives, just whole, natural ingredients.
Supplement Facts
Serving Size: 2 Softgels | Servings Per Container: 30
| | Amount Per Serving | %DV |
| --- | --- | --- |
| Fish Oil | 2000mg | † |
| Calories | 20 | † |
| Total Fat | 2 g | 4% |
| Saturated Fat | 0 g | † |
| EPA | 800 mg | † |
| DHA | 600 mg | † |
† Daily Value Not Established
Other Ingredients:
Vitamin E, Gelatin, Glycerin, Purified Water, Enteric Coating Powder
Allergen Warning: Contains Fish
* These statements have not been evaluated by the Food and Drug Administration. This product is not intended to diagnose, treat, cure, or prevent any disease.
How to Take OmegaWell
1 softgel
Twice Daily
With Food
Manufactured in the USA

Our line of natural products, manufactured in the USA with domestic and imported ingredients, employs stringent quality control standards that exceed expectations set by cGMP (Current Good Manufacturing Practices).

3rd Party Tested

We double down on our commitment to truth in labeling, ingredient safety, and product potency with independent, 3rd party testing, giving you peace of mind that what's on the label is also what's inside the bottle.
---
OmegaWell Reviews
In the interest of transparency, we never use incentives to influence these reviews.
Write a Review
I have no problem with these.

This product has reduced inflammation induced pain in my spine from osteoporosis. I was on Dr. prescribed opioid pain management. I take no other medications or supplements and exercise daily. My mind is clear, my body is healthy and at 50, I'm looking forward to retirement.

I use it to control inflammation- best product I have used to date! It has no aftertastes and is easy to swallow. I will continue using - it has so many benefits.

Seldom do I buy a supplement from a specific brand more than a couple of times, but the OmegaWell Fish Oil is the exception. I have osteoarthritis in my hands & dry eyes & in both cases the OmegaWell Fish oil has alleviated the symptoms (although OmegaWell makes no claims to alleviating dry eyes). For this alone, I am a repeat customer. But the added benefit is that there's no fishy aftertaste or burps. The capsule is a bit large, but no more than the size of other supplement oils. Highly recommend.

I am a nurse and I love supplements! I especially love ones that are made well and consist of the best ingredients.. potency and do what they claim.. I originally found this for my brother who is high stress.. doesn't sleep enough and puts his body through a lot... he had high blood pressure, as I said stress and achy joints and over all pain... within a few days he noticed a huge difference in the way his body feels.. his BP is down and he feels so much better.. this supplement has just enough of what a great fish oil should.. I highly recommend it!

My doctor told me that my cholesterol was in the medium to high range. I started taking omegawell and my levels are great! The pill is easy to take.

I have suffered for 2 years with joint pain. I used not one but two canes or a walker. After only one month using this product, not only has my pain gone away, I no longer need my walking devices. Will never be without this again! Love, Love, Love, it

I was able to skip my Cortizone shot once I started taking these!

I tried the other 'mega' product and had no positive results to speak of. I researched for more than two days and found this product is the most spoken of for its quality and result. It's not cheap, but then again, if you want quality, you pay for it. I wanted my recollection of words and memory to return to what they once were, and this product, after two weeks, has been truly a godsend. My anxiety of talking in front of people and not finding the correct word to use is gone. It was not instant, I would say after two weeks, I started noticing I was speaking much more freely, liquid, word flowing, I don't know exactly how to describe it (lol). But if you have had a decline in memory/recollection, I highly suggest this product and wish you the same results I've had. I am not a paid consumer and bought a my bottle of OmegaWell a Fish Oil with my hard earned cash, and it was the best money I've spent in years!

I've been taking this for a few months. I have chronic dry eye. Have tried restasis, and eye drain plugs, the most help has been this product. I noticed a difference right away. My eyes were more moisturized and less scratchy. I recommend it to anyone with this problem.