Soy-Free
Gluten-Free
Dairy-Free
Sugar-Free
---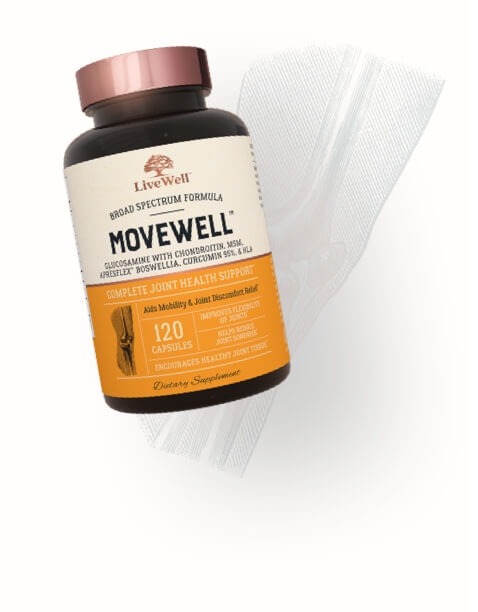 Offering: MoveWell™
Intention: Joint Support
Talk about a joint effort.. MoveWell™ improves overall joint health with the one-two punch of glucosamine and chondroitin. This powerful supplement is perfect for anyone looking to improve mobility and flexibility through the restoration of collagen in the joints. As part of our specially designed formula, MSM is included, which may assist with muscle soreness, AprèsFlex® Boswellia to combat collagen degradation, curcumin 95% to neutralize free radicals, and hyaluronic acid for joint flexibility and integrity. Sayonara stiff, sore mornings - hello evenings on the dance floor.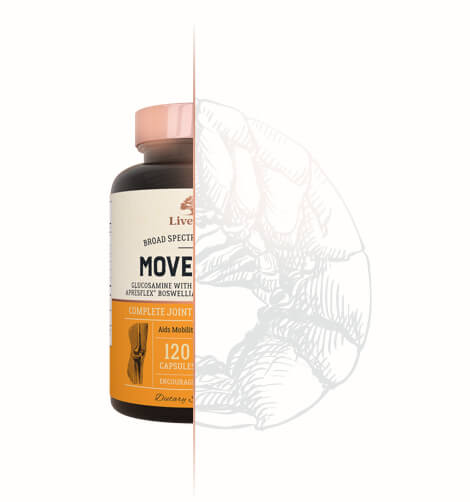 The Source
Glucosamine sulfate is derived from shellfish and is the most readily accepted form of glucosamine for the body. Glucosamine itself is an amino acid sugar that occurs naturally in fluid surrounding the joints.
Chondroitin sulfate is already present in the cartilage of your body. However, wear and tear, age, and other factors can cause a loss of cartilage, leading to a variety of joint issues. By including chondroitin in a supplement, it can help ensure your body is able to produce and maintain the cartilage it needs.
AprèsFlex® Boswellia is a new composition of the clinically studied Boswellia serrata plant, also commonly called Indian frankincense. This extract is specifically designed to promote healthier joints and connective tissues, aiding comfort and mobility while helping reduce soreness.
Hyaluronic acid (HLA) is an essential and naturally occurring part of the fluid your body needs to lubricate joints. By ensuring your body always has enough, you can help reduce joint discomfort.
Methylsulfonylmethane (MSM) is used to help combat joint degeneration. This powerful antioxidant can help increase levels of glutathione in the body.
Key Ingredients
Glucosamine
Patented and clinically proven
ChondroitinAids immune health
AprèsFlex® Boswellia
Patented and clinically proven
You can rest assured knowing there are never any harmful fillers or additives, just whole, natural ingredients.
Supplement Facts
Serving Size: 4 Capsules | Servings Per Container: 30
Amount Per Serving
%DV

AprèsFlex®

(Boswellia serrata Extract)

100mg
**

Glucosamine Sulfate

1500 mg
**

Chondroitin Sulfate

600 mg
**

MSM (Methylsulfonylmethane)

600 mg
**

Curcumin 95%

100 mg
**

Hyaluronic Acid

100 mg
**
Other Ingredients:
Vegetable Oil Powder, Silica, Vegetable Cellulose Capsule
Allergen Warning: Contains shellfish.
* These statements have not been evaluated by the Food and Drug Administration. This product is not intended to diagnose, treat, cure, or prevent any disease.
** Percent Daily Value based on a 2,000 calorie diet.
How to Take MoveWell™
Take 2 capsules
Twice daily
Made in America

Our entire line of natural products are proudly manufactured in the USA, employing stringent quality control standards that exceed expectations set by cGMP (Current Good Manufacturing Practices).

3rd Party Tested

We double down on our commitment to truth in labeling, ingredient safety, and product potency with independent, 3rd party testing, giving you peace of mind that what's on the label is also what's inside the bottle.
---
MoveWell™ Reviews
In the interest of transparency, we never use incentives to influence these reviews.
Write a Review
Love this product so far!

from Amazon

Helps with hand stiffness/ arthritis

from Amazon

Great. Not sure if it is effective or if it is a placebo effect but my knee doesn't hurt after exercising like it used to.

from Amazon

No complaints about the product in terms of its intended purpose and efficacy. The results were better than I ever could have imagined. Sigh.

from Amazon

I would highly reccomended, and will keep this in my treatment plan for years to come!

from Amazon

So far I believe it's working- I have not had joint pain since I've been using this product.

from Amazon

Use it as a daily supplement and for my bones.

from Amazon

It is easy to swallow and I will continue to use this.

from Amazon

I use this product for my sore knees they have helped a bit I am starting to notice.

from Amazon

I am a construction worker, and I feel much better after taking these.

from Amazon