Soy Free
Gluten Free
Dairy Free
Preservative Free
Sugar-Free
Shellfish-Free
---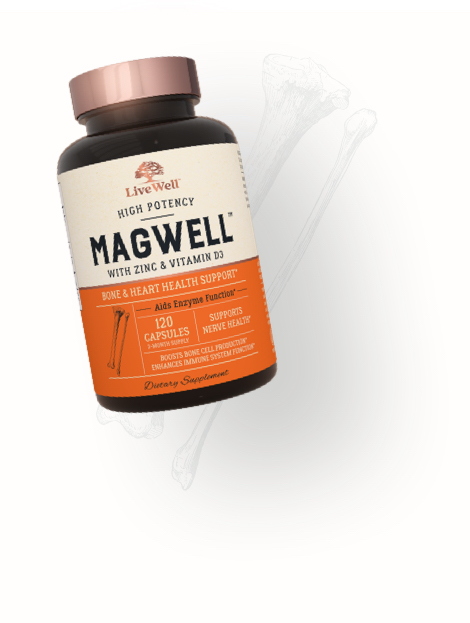 Offering: MagWell™
Intention: Bone, Muscle & Immunity
MagWell™ magically combines the bone and muscle-strengthening support of magnesium with the energy and immune system-boosting power of zinc, to combat harmful vitamin and mineral deficiencies. MagWell™ also includes vitamin D3 to maximize absorption, essential for optimal bone, muscle, immune, and enzymatic health; mag-nifying a life well-lived.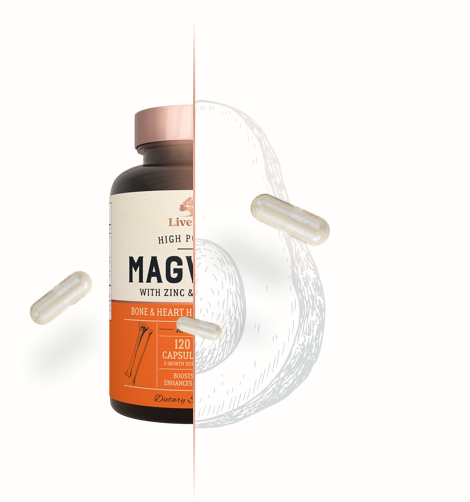 The Source
MagWell™ uses 3 different types of magnesium for a synergistic effect making the combination more efficient and effective than each type alone.
The first, magnesium citrate, is one of the most easily absorbed forms of magnesium, as the magnesium is bound to citric acid. Magnesium glycinate uses glycine, an amino acid, and is also highly bioavailable. Using glycine can help promote the mood-boosting benefits of magnesium. Magnesium malate is the third type of magnesium in Magwell™ and uses malic acid as the carrier. This helps improve the effect of magnesium on fatigue and pain relief.
Magwell™ uses zinc picolinate, the most bioavailable form of zinc, and one with no known side effects from its use.
Key Ingredients
MagnesiumIn its most bioavailable forms
ZincFights colds
Vitamin D3Aids bone and immune health
You can rest assured knowing there are never any harmful fillers or additives, just whole, natural ingredients.
Supplement Facts
Serving Size: 2 capsules | Servings Per Container: 60
Amount Per Serving
%DV

Magnesium

(Magnesium Citrate,

Magnesium Glycinate, and

Magnesium Malate)

225mg
53%

Zinc

(Zinc Picolinate)

7.5mg
68%

Vitamin D3

(as Cholecalciferol)

25 mcg (1000 IU)
125%
Other Ingredients:
Vegetable Cellulose Capsule, Vegetable Oil Powder, Rice Flour.
* These statements have not been evaluated by the Food and Drug Administration. This product is not intended to diagnose, treat, cure, or prevent any disease.
** Percent Daily Value based on a 2,000 calorie diet.
How to Take MagWell
2 capsules
Daily
With or without food
Made in America

Our entire line of natural products are proudly manufactured in the USA, employing stringent quality control standards that exceed expectations set by cGMP (Current Good Manufacturing Practices).

3rd Party Tested

We double down on our commitment to truth in labeling, ingredient safety, and product potency with independent, 3rd party testing, giving you peace of mind that what's on the label is also what's inside the bottle.
---
MagWell Reviews
In the interest of transparency, we never use incentives to influence these reviews.
Write a Review
I haven't had the product very long so but I think it has improved my sleep quality.

from Amazon

Reasonably priced. I have high hopes for this product due to reviews and ingredients. I will be calling customer service just to verify.

from Amazon

I like this product. I am using it for the magnesium to assist with severe leg cramping.

from Amazon

Worked for what I needed

from Amazon

I think it helps with sleep, and I appreciate the size, small and easy to swallow

from Amazon

I'm using this product to promote sleep and aid in digestion, among many other things.

from Amazon

It is helping me sleep at night.

from Amazon

Just started taking it but have high expectations.

from Amazon

So here it hoping for the best!

from Amazon

I am excited to have found your product that hit all the markers I was told to look for in a top notch supplement.

from Amazon