Preservative Free
Non-GMO
---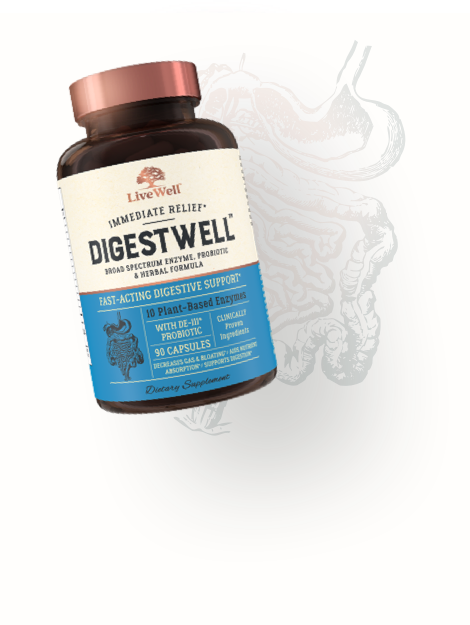 Offering: DigestWell™
Intention: Fast-Acting Digestive Support
Let's break things down. DigestWell™ contains 10 broad-spectrum, plant-based digestive enzymes to help your body absorb key nutrients more effectively and support proper digestion. The addition of the clinically studied probiotic DE111® and powerful botanicals, ginger, fennel, and peppermint, all been shown in clinical trials to aid in digestion, providing quick relief to the uncomfortable symptoms related to indigestion - bringing back the calm of rest and digest.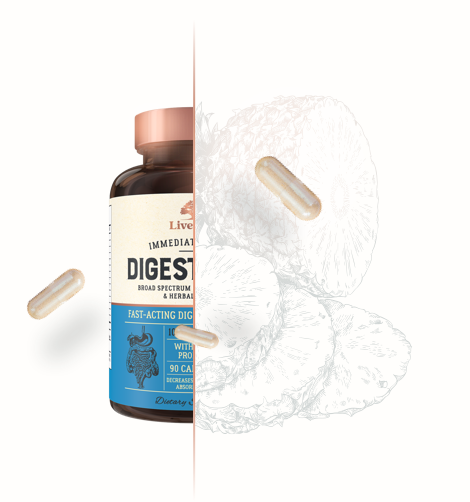 The Source
Our digestive system employs roughly 22 different digestive enzymes, at any given time, to help us break down our food into important nutrients. These enzymes assist specific processes to strengthen and elevate nutritional absorption and performance.
Key plant-based enzymes such as bromelain from pineapple and papain from papaya, as well as intestinal enzymes, amylase, glucoamylase, cellulase, protease, lactase, lipase, and hemicellulose, are integral to aiding digestion, which is why DigestWell combines all of these and more into one broad-spectrum enzyme formula.
These high potency enzymes are designed to help you digest fats, proteins, carbs, and sugars reduce bloating and cramping, and may improve long-term gut health. Along with the support of ginger extract, fennel seed powder, and peppermint leaf extract, this formula can soothe discomfort by promoting the body's ability to generously nourish each of its vital systems.
Lastly, the addition of the clinically studied and patented probiotic strain, DE111® Bacillus subtilis, supports the growth of good bacteria in the gut, helping to crowd out undesirable bacteria and promote proper digestion.
Key Ingredients
PineappleBromelain
Gingerextract
PapayaPapain (contains sulfites)
You can rest assured knowing there are never any harmful fillers or additives, just whole, natural ingredients.
Supplement Facts
Serving Size: 2 Capsules | Servings Per Container: 30
| | AMOUNT PER SERVING | %DV |
| --- | --- | --- |
| Ginger Extract | 20mg | * |
| Fennel Powder | 15 mg | * |
| Bromelain | 40 GDU | * |
| Amylase | 1,984 DU | * |
| Glucoamylase | 14 AGU | * |
| Cellulase | 1,791 CU | * |
| Peppermint Leaf Extract | 10 mg | * |
| Acid Stable Protease | 52 SAPU | * |
| Papain (contains sulfites) | 300,000 PU | * |
| Lactase | 392 ALU | * |
| DE111® | 1.66 billion CFU | * |
| Hemicellulase | 345 HCU | * |
* Daily Value Not Established
Other Ingredients:
Low Moisture Rice Dextrin, Vegetable Capsule (Hypromellose, Water)
Allergen Warning:
Soy, Wheat, Sulfites, Lactose
* These statements have not been evaluated by the Food and Drug Administration. This product is not intended to diagnose, treat, cure, or prevent any disease.
How to Take DigestWell
2 Capsules or More As Needed
Daily
With Each Meal
Manufactured in the USA

Our line of natural products, manufactured in the USA with domestic and imported ingredients, employs stringent quality control standards that exceed expectations set by cGMP (Current Good Manufacturing Practices).

3rd Party Tested

We double down on our commitment to truth in labeling, ingredient safety, and product potency with independent, 3rd party testing, giving you peace of mind that what's on the label is also what's inside the bottle.
---
DigestWell Reviews
In the interest of transparency, we never use incentives to influence these reviews.
Write a Review
This stuff is great! I have a sensitive stomach and these have helped tremendously. Highly recommend.

Hace una semana que lo tomo y me siento bien sin efectos secundarios, es fácil de tragar no tiene olor ni gusto

I have used thins product for short time, but it has made a big difference in my health.. I'll continue to use it.

Great product. Helps a lot.

I wish I would have found this years ago!!

This product has really helped (and probably saved my marriage -)

I got these to ease some stomach discomfort I was feeling at night, works very well!

Very easy to swallow, does help with bloat

I used it when I ate spicy meals.

Its good so far