Soy Free
Gluten Free
Dairy Free
Non-GMO
---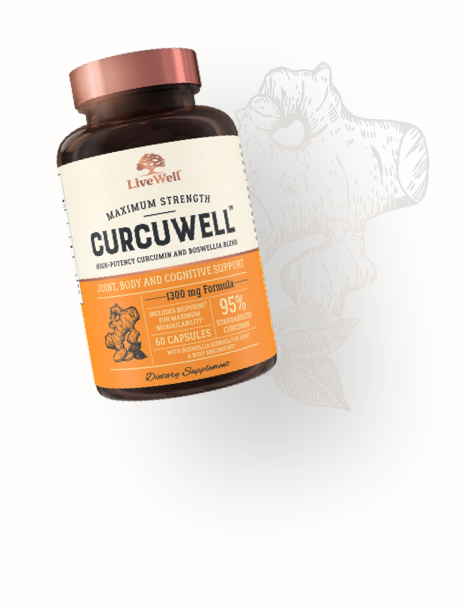 Offering: CurcuWell™
Intention: Joint, Body & Cognitive Health
All the joint support you need, sans rolling papers. CurcuWell™ combines a potent 1000 mg daily dose of clinically studied 95% Curcuminoid Turmeric Curcumin extract and a 300 mg serving of 65% boswellic Boswellia Serrata with patented BioPerine® black pepper extract, which has been shown in clinical studies to increase absorption by up to 2000%. This powerful formula may have a positive effect on joint discomfort, brain and heart function, and support systemic, full-body health - so you can stay gold.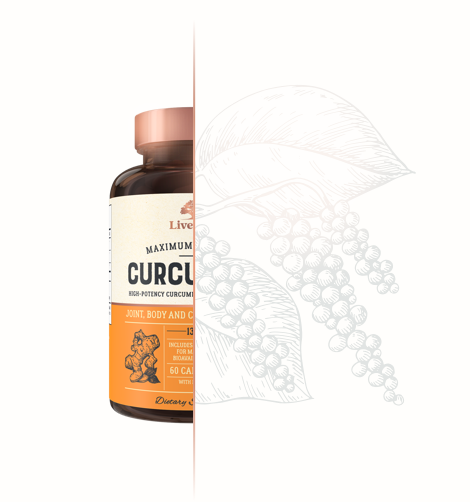 The Source
An antioxidant powerhouse, the ingredient Turmeric Curcumin has been clinically shown to support joint, heart, and brain function. CurcuWell is packed with high-potency 95% standardized Curcuminoids Turmeric Curcumin, 65% boswellic Boswellia Serrata, and patented black pepper extract BioPerine scientifically shown to increase absorption by up to 2000%, making CurcuWell more effective than any generic turmeric extract on the market today.
This powerful clinically backed combination of Turmeric Curcumin with Boswellia Serrata and Bioperine was designed to increase the beneficial effects of these ancient herbs, helping to ease joint discomfort and distress, while also encouraging the wellbeing of the brain, heart, and immune system, giving a boost your overall health.
Key Ingredients
turmeric curcuminantioxidant powerhouse
boswellia serrata65% boswellic acid
bIOPERINE®increases absorption
You can rest assured knowing there are never any harmful fillers or additives, just whole, natural ingredients.
Supplement Facts
Serving Size: 2 Softgel | Servings Per Container: 30
Amount Per Serving
%DV
Turmeric Curcumin
(Standardized to 95% Curcuminoids)
1000mg
*
Boswellia Serrata
(Standardized to 65% Boswellic Acids)
300 mg
*
Bioperine®
10mg
*
Other Ingredients:
Vegetable Cellulose (Veggie Capsule)
May contain 0-1% silicon dioxide to retain ingredient potency
* These statements have not been evaluated by the Food and Drug Administration. This product is not intended to diagnose, treat, cure, or prevent any disease.
How to Take CurcuWell
1 Capsule
Twice Daily
With Food
Manufactured in the USA

Our line of natural products, manufactured in the USA with domestic and imported ingredients, employs stringent quality control standards that exceed expectations set by cGMP (Current Good Manufacturing Practices).

3rd Party Tested

We double down on our commitment to truth in labeling, ingredient safety, and product potency with independent, 3rd party testing, giving you peace of mind that what's on the label is also what's inside the bottle.
---
CurcuWell Reviews
In the interest of transparency, we never use incentives to influence these reviews.
Write a Review
just what I wanted

Wasn't really satisfied with anything. Stil felt the same. Easy to swallow and open.

Works fast

I will be buying this brand again. I'm trying to hold out for a lightning deal. It works great for me.

There is another ingredient in Circuwell that I believe has made it more effective than my previous brand. But, I can update at a later date.

Great Product

Then I started using Curcuwell, I am now down to 400 mg twice a day of Ibuprofen, I am sure my kidneys and heart thank me.

After two weeks taking this I noticed a marked improvement in my hip. Very pleased.

Good

This the best curcumin turmeric I have used. I used to take 3 to 6 ibuprofen a day.