Soy Free
Gluten Free
Dairy Free
Preservative Free
Non-GMO
Keto Friendly
Paleo Friendly
---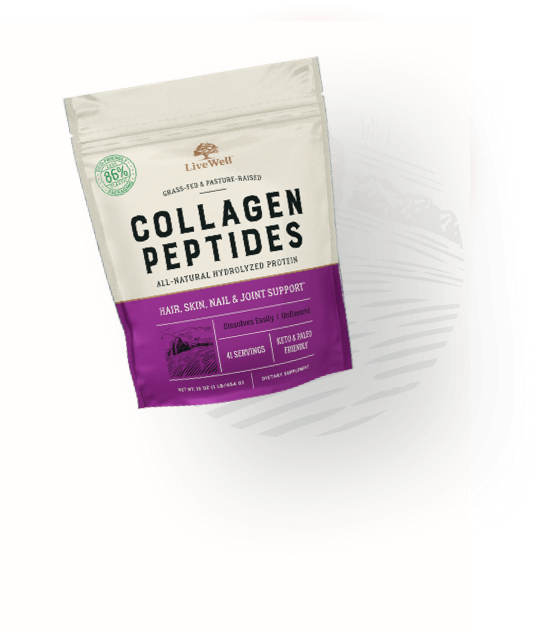 Offering: Collagen Peptides™
Intention: Hair, Skin, Nail & Joints
LiveWell™ hydrolyzed, type I & III Collagen Peptides are sourced from grass-fed, pasture-raised, Grade A bovine, and are certified hormone-free and 100% non-GMO. Containing 20 amino acids, Collagen Peptides are enzymatically formulated for enhanced bioavailability and absorption to support bone and joint health, strengthen hair, skin, and nails, improve gut and immune function, and benefit the body's overall cellular structure, so you can live, look and feel (better than) well.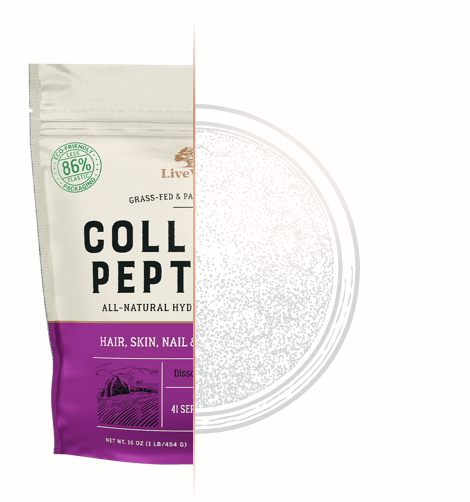 The Source
Collagen is the most abundant, naturally-occurring protein found in the human body and is the building block for your cells, tissues, and organs, making it essential for healthy bones, joints, skin, hair, and nails. As we age, we naturally lose collagen, and modern diets are less abundant in collagen, which can lead to stiffness, swollen joints, sagging skin, wrinkles, and more. Increasing your body's reserves with hydrolyzed collagen may lead to improved joint health, digestion, brain health, and can give you more youthful-looking skin, thicker, healthier hair, and stronger nails.
The benefit of hydrolyzed collagen is that it has been broken down into shorter chains, called peptides. The resulting powder is virtually tasteless and odorless, and its low molecular weight means you can easily stir it into anything you'd like, and it blends right in.
We ensure our hydrolyzed collagen peptides are sourced only from grass-fed, pasture-raised, Grade A bovine, and certified hormone-free and 100% non-GMO because we know grass-fed cows are happier and healthier. Free of harmful fillers and additives, our collagen peptides are the best way to promote skin elasticity which plays a key role in limiting the effects of aging.
Key Ingredients
Grade A BovineGrass-Fed, Pasture-Raised
You can rest assured knowing there are never any harmful fillers or additives, just whole, natural ingredients.
Supplement Facts
Serving Size: 1 Scoop(11 g) | Servings Per Container: 41
Amount Per Serving
%DV
Total Calories
40
*
Protein
9.9
*
Calcium
4 mg
<2%
Iron
.22 mg
<2%
Sodium
55 mg
<2%
Potassium
1 mg
<2%
Hydrolyzed Bovine
Collagen Types
I & III Peptides
11 g
**
* Daily Value Not Established
* These statements have not been evaluated by the Food and Drug Administration. This product is not intended to diagnose, treat, cure, or prevent any disease.
How to Take Livewell Collagen Peptides
One scoop (11g)
Daily
Mix with 8-12 oz of water,
juice, or any drink.
Manufactured in the USA

Our line of natural products, manufactured in the USA with domestic and imported ingredients, employs stringent quality control standards that exceed expectations set by cGMP (Current Good Manufacturing Practices).

3rd Party Tested

We double down on our commitment to truth in labeling, ingredient safety, and product potency with independent, 3rd party testing, giving you peace of mind that what's on the label is also what's inside the bottle.
---
Livewell Collagen Peptides Reviews
In the interest of transparency, we never use incentives to influence these reviews.
Write a Review
My nails are definitely stronger and able to grow longer. Not noticing anything regarding my hair or joints yet. Maybe soon.

It is easy to use and dissolves well in my coffee.

This product seems to be the best value AND I have actually noticed a difference in my hair and nails especially. Try it out!

Within 3 days of starting this product I noticed a difference of less soreness! My hubs said my thighs looked smoother too! Thank you!

I haven't taken all of the first tub but will be buying again

It's a generous bottle. I put a scoop in my coffee and I don't even know it's there. No taste.

Now still taking that plus the collagen peptides every day and not having to use any pain relief meds.I see a huge change in my hair.

No side effects, just great changes for the better.

Easily dissolvable, super great value!!

I used it in my coffee today for first time and couldn't taste it---that's a plus!