Soy Free
Gluten Free
Dairy Free
Preservative Free
Non-GMO
---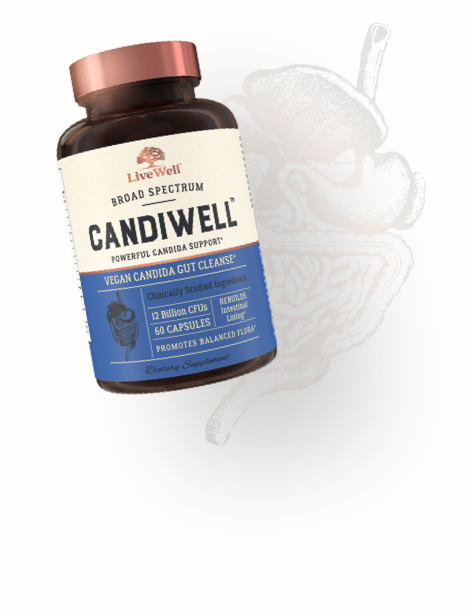 Candiwell™
Powerful Candida Support*
Livewell CandiWell ™ contains a unique combination of clinically studied herbs and botanicals, fiber-digesting enzymes and 12 billion CFUs of potent probiotics designed to balance intestinal yeast, provide powerful digestive support and restore valuable gut flora. The addition of aloe vera to this 100% all natural and potent formula promotes the rebuilding of a healthy intestinal lining wall, which helps improve digestion and enhances your immune system responses, so you can live well.
Aids in the detoxification and cleansing of the digestive system, which helps to improve and maintain proper Candida levels in your body.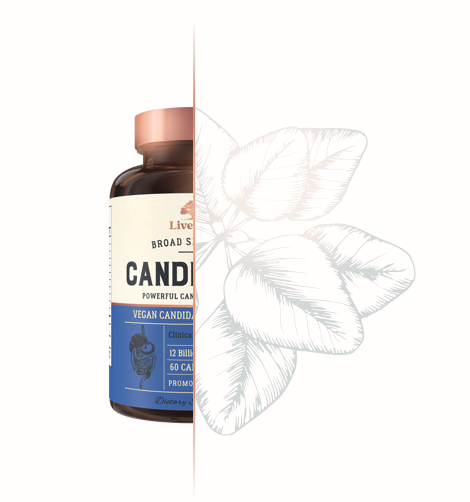 The Source
A naturally-occurring yeast fungus, Candida is good for your intestinal tract in small amounts, however candida overgrowth, due to overuse of antibiotics, consumption of sugar, stress, or other dietary reasons, can dramatically affect your overall health and wellbeing.
CandiWell is an effective support for your battle against candida yeast overgrowth, aiding in the detoxification and cleansing of the digestive system, which helps to improve and maintain proper Candida levels in your body.
CandiWell is made with nature's own time-proven ingredients like Oregano Leaf Extract, Wormwood Leaf Powder, Reishi Mushroom, Aloe Vera Leaf Gel, prebiotics Protease and Cellulase, and 12 billion CFUs of probiotics, making it a very effective yet gentle formula that supports you in every stage of your candida cleanse.
Key Ingredients
aloe veranatural healing
Reishi mushroomimmune system boost
oregano leafpowerful antioxidants
You can rest assured knowing there are never any harmful fillers or additives, just whole, natural ingredients.
Supplement Facts
Serving Size: 2 Capsules | Servings Per Container: 30
| | Amount Per Serving | %DV |
| --- | --- | --- |
| Oregano Leaf Extract 4:1 | 500mg | * |
| Caprylic Acid (Magnesium Caprylate) | 400 mg | * |
| Lactobacillus acidophilus L61A | 12 Billion CFU | 447% |
| Protease | 25,000 HUT | * |
| Cellulase | 3,200 CU | * |
| Aloe Vera Leaf Gel 200:1 | 50 mg | * |
| Arabinogalactan (Larch) | 50 mg | * |
| Anise Seed 4:1 | 50 mg | * |
| Black Walnut Hulls Powder | 50 mg | * |
| Wormwood Leaf Powder | 50 mg | † |
| Reishi Mushroom 4:1 | 25 mg | * |
† Daily Value Not Established
Other Ingredients:
Rice Flour, Vegetable Cellulose (Veggie Capsule)
* These statements have not been evaluated by the Food and Drug Administration. This product is not intended to diagnose, treat, cure, or prevent any disease.
** Percent Daily Value based on a 2,000 calorie diet.
How to Take CandiWell
2 capsules
One in the morning and
one in the evening
Full glass of water
Made in America

Our entire line of natural products are proudly manufactured in the USA, employing stringent quality control standards that exceed expectations set by cGMP (Current Good Manufacturing Practices).

3rd Party Tested

We double down on our commitment to truth in labeling, ingredient safety, and product potency with independent, 3rd party testing, giving you peace of mind that what's on the label is also what's inside the bottle.
---
CandiWell Reviews
In the interest of transparency, we never use incentives to influence these reviews.
Write a Review
Be the first to review this product!