Soy Free
Gluten Free
Dairy Free
Preservative Free
Non-GMO
Shellfish Free
---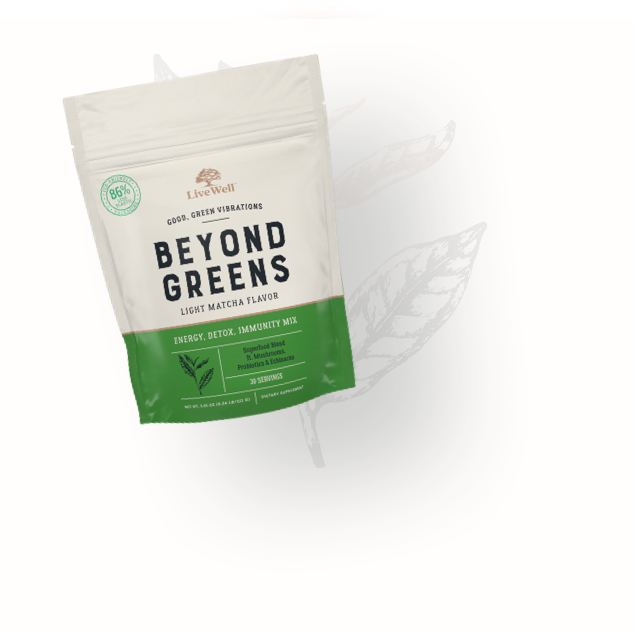 Offering: Beyond Greens
Intention: Energy & Immune Health
Our greens are far out. Conscious meets clinical in this potent superfood blend that transcends the rest. Our mystic mix of echinacea, rhodiola, milk thistle, probiotics, and four varieties of powerful mushrooms (including Lion's Mane and Reishi) can help support a healthy immune system, harmonious gut health, whole-body detoxification, and clean energy. From mushrooms to the microbiome, organic plants to probiotics and beyond, the LiveWell difference is undeniable. A little goes a long way in this concentrated, gluten-free, soy-free, vegan blend, complemented by a light matcha flavor.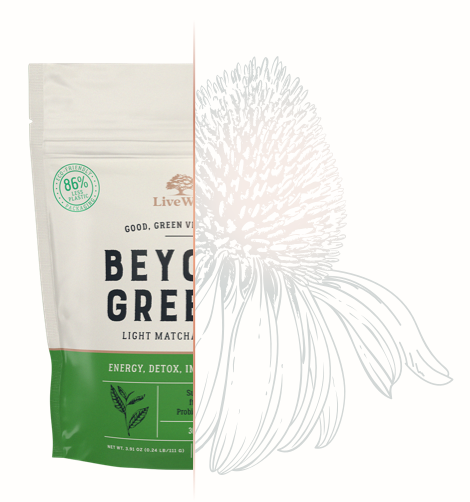 The Source
Just as we are linked to the environment and world around us, each aspect of your body is interconnected with one another. Better health of the microbiome in your gut, for example, can boost immune health, energy levels and mood. That's why Beyond Greens is essentially the multivitamin reimagined, focusing on improving multiple areas of your health that will elicit positive change throughout the whole body. A small amount of this potent, concentrated mix features ingredients in clinical dosages, unmatched by traditional green drinks.
The ingredients in this powerful formula stem in part from the immune-boosting benefits found in our mushroom blend of reishi, lion's mane, turkey tail, and cordyceps as well as the well-known benefits of echinacea, which can help your immune system defend your body. Plus, when your body doesn't have to work as hard to fend off pathogens, you can have more energy to get out there and live your best life.
But boosting your immune system directly isn't the only way Beyond Greens builds overall health support. Carefully selected probiotics may help your microbiome function more efficiently, which can improves your digestive system. Better digestion can lead to more energy again, and a healthier microbiome can means a better immune system too..
Key Ingredients
Organic
Mushroom
Blend
Echinacea
Rhodiola
You can rest assured knowing there are never any harmful fillers or additives, just whole, natural ingredients.
Supplement Facts
Serving Size: 1 Scoop (3.7g) | Servings Per Container: 30
Amount Per Serving
%DV

Rhodiola rosea

50 mg
**

Matcha Powder

200 mg
**

Organic Reishi Mushroom

(Ganoderma lucidum)

25 mg
**

Organic Cordyceps militaris

25 mg
**

Organic Turkey Tail Mushroom

(Trametes versicolor)

25 mg
**

Organic Lion's Mane Mushroom

(Hericium erinaceus)

25 mg
**

Chlorella

500 mg
**

Echinacea purpurea

900 mg
**

Milk Thistle

200 mg
**

LactoSpore®

(Bacillus coagulans MTCC 5856)

300 Million CFU
**

FOS

(Fructo-oligosaccharides)

190 mg
**

XOS

(Xylo-oligosaccharides)

20 mg
**

Acacia Gum

190 mg
**

Ceylon Cinnamon

314 mg
**

Calories

5
† Daily Value Not Established
Other Ingredients:
Natural Flavor, Xanthan Gum, Xylitol, Salt, Sodium Copper Chlorophyllin, Stevia, Maltodextrin, Organic Sunflower Oil, Organic Rice Starch.
* These statements have not been evaluated by the Food and Drug Administration. This product is not intended to diagnose, treat, cure, or prevent any disease.*
How to Take Beyond Greens
One scoop (3.7g)
Daily
Mix with 8-12 oz
of hot or cold beverage
Manufactured in the USA

Our line of natural products, manufactured in the USA with domestic and imported ingredients, employs stringent quality control standards that exceed expectations set by cGMP (Current Good Manufacturing Practices).

3rd Party Tested

We double down on our commitment to truth in labeling, ingredient safety, and product potency with independent, 3rd party testing, giving you peace of mind that what's on the label is also what's inside the bottle.
---
Beyond Greens Reviews
In the interest of transparency, we never use incentives to influence these reviews.
Write a Review
I honestly can't stand the taste but know there are such good health benefits so I put about a 1/16 if a teaspoon in my hot green tea everyday.

Best tasting greens I have had. Will be purchasing again

Don't waste your money. This product does not taste good and the return policy is rediculous. I used this product as directed for a full three week. I experienced absolutely no benefits. This item does not produce the results described in the description. Additionally, the taste is very off-putting. Beware, although you can return this item, you are responsible for the cost of return shipping, and the company will charge you a 15% processing fee.

product returned. . . could not drink this drink.

I can say I like it taste is very good I have not lost any weight I don't exercise but I do eat healthy.

I have tried several other brands of this type of product. By far for my body this product has provided me with improved energy, both physically and mentally. It also has had a positive effect on my lower gut system. The taste of all similar products, this included is challenging, but a small sacrifice to make for improved energy!

I am enjoying the product. I'm 87 and used to take an afternoon nap, but now seldom do.

I'd love to leave a review, but I cannot. I ordered the Beyond Greens, but was sent 4 bags of Collagen, which I cannot take because I am vegan. Hopefully the next shipment will be correct. I wanted to send an email, but I forgot my password and the link to reset it leads to nowhere.

lol, I've only tried the Beyond Green once. I can't take the "flavor" of it. What can I use it in?? I love the Collagen. .