ZenWell is the highest quality ashwagandha supplement on the market today.
Here at LiveWell, we take our standards of quality and potency seriously. That's why our customers trust us to provide the most powerfully formulated health products on the market.
When we decided to start offering ZenWell, our premium ashwagandha supplement, we brought the same standards of excellence we've used to create all our other products.
The result: ZenWell is the highest-quality ashwagandha supplement available on the market today.
What Ashwagandha Is For
A well-formulated, potent ashwagandha supplement can do a lot for you:
Stress Relief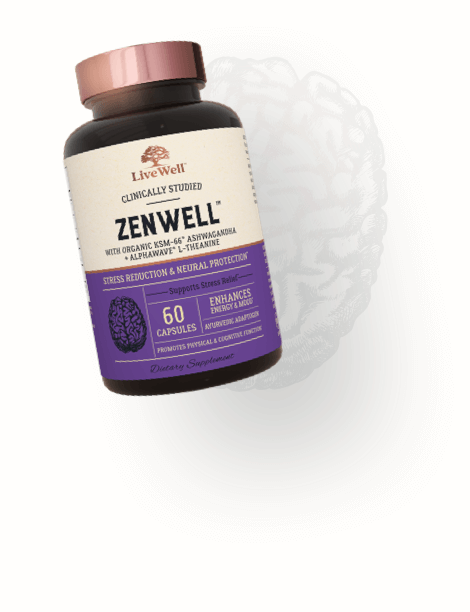 Sleep Support
Improved Mood
Increased Focus
Boosted Energy
Reduced Signs of Aging
But in order to take advantage of all these ancient herb's unique properties and benefits, you want to make sure you get a high-quality Ashwagandha product. That's why we made ZenWell.
ZenWell - Best Ashwagandha on the Market
ZenWell uses the following patented ingredients to ensure that you get all the great benefits of a potent ashwagandha supplement.
KSM-66 is the highest-concentrated extract of ashwagandha on the market today, and it is created using only the roots of the plant, as opposed to the less effective leaves.
AlphaWave L-theanine is a pure form of L-theanine that is produced by mimicking the natural process that takes place in green tea leaves.
Together, these ingredients are a powerful way to stay focused and mentally energized all day, every day.